RD6: U18 Match Preview
Thursday, April 15, 2021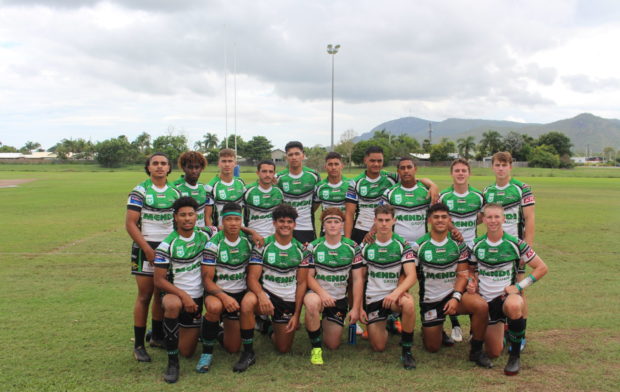 Mendi Blackhawks U18s will play their last round game this weekend before the finals.  Photo Blackhawks Media
LACHLAN PRINCE, QRL
FIRST PUBLISHED www.qrl.com.au Thu 15 Apr, 2021 
The Townville Mendi Blackhawks and Northern Pride are set to go head-to-head again this weekend in the the final regular season round of the Auswide Bank Mal Meninga Cup.
The Round 6 clash will be the second meeting for the two sides during the 2021 season with the Blackhawks securing an impressive 66-0 win over Pride back in Round 2.
However, Mendi Blackhawks coach Stephen Sheppard has urged his side not to be complacent given their recent track record against Pride and the stop-start nature of their season so far.
"We've had some good performances… our defence has been our highlight and hopefully we can continue that this weekend," Sheppard said.
"There's always rivalry between Cairns and Townsville and they can be a danger game, especially if you've played them before and had a good win, so we will just focus on us and our defence and apply some pressure in attack."
Pride coach Joel Riethmuller said his side knew what to expect from Townsville and would be looking to make amends for the performance in Round 2.
"I think there's always a little bit more feeling when we are playing Townsville," Riethmuller said.
"They've got systems in place, players recruited in key positions and threats everywhere, so we will need to show more effort for the full 80 minutes."
Sheppard said every single one of  players on his roster had contributed to the side's success to date.
"All of them have been really strong us and have bright futures in the game, but William Latu is one to look out for this weekend, he's a big second rower who has got great footwork and a good offload," Sheppard said.
Riethmuller said despite his side not getting the results they wanted for this season, they were a young side, with many of them eligible for next year's season.
"We've got a lot of kids who are 17 and they will be better for it next year," Riethmuller said.
"It's experience, it's understanding what they are up against, the level that they are playing at and they've definitely improved, but from the weekend, it shows that the things you get away with in local league, you don't get away with at this level.
"So hopefully we, as a club, are in a different position this time next year and are really competitive."
Riethmuller also said his young stars, hooker Hamish Davies, and prop Brock Salecich, were primed to have a good performance again for his side this weekend after their constant improvement throughout the season.
The northern derby will kick-off on Saturday at 4pm at Jack Manski Oval, Townsville.