Round 1: U21 Mendi Blackhawks v Norths Devils
Wednesday, April 7, 2021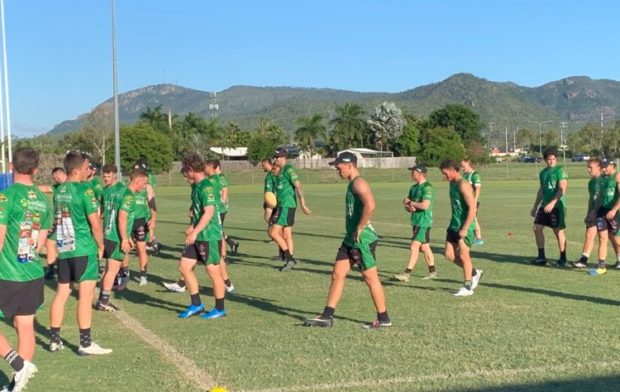 Pre-season is finally over for the Mendi Blackhawks U21s. Photo Blackhawks Media
BLACKHAWKS MEDIA
The longest pre-season of all the Mendi Blackhawks teams finally comes to an end this weekend, when the U21s head to Brisbane for round 1 of the Hastings Deering Colts competition against the Norths Devils.
The team haven't played since round 1, March 14 2020 when they beat the Ipswich Jets 54-0.
.
Coach of the Mendi Blackhawks Dave Elliott said his team were looking forward to their first game.
"There is certainly a lot of excitement around the team, but also some trepidation," Elliott said.
"After what happened last year, they're still asking me if I've heard anything, and will this weekends game be definitely going ahead."
"It will only really hit home on Friday after our Captains Run when I give them the final all clear."
"Watching the Intrust Super Cup team play and the other Mendi Blackhawks Junior teams has really got them keen to get on field and play competition football."
"We play our first two rounds away, then our first home game will be against the Falcons on April 25,"
"The boys can't wait to run out to a home crowd."
"We are a fairly new side, especially our forward pack so it will be an interesting game this weekend against Norths."
The game kicks off this Saturday at 3.45pm from Bishop Park Brisbane.
RD1 Hastings Deering Colts U21s
Mendi Blackhawks V Norths Devils
3.45pm, Bishop Park
1 Dylan White
2 Jordan Lipp
3 Ben Campagnolo
4 Zinzaan Martin
5 Ty Everett
6 Jake Bourke
7 Aaron Moore
8 Maletino Lafoga
9 Curtis Dempsey (c)
10 Hamilton Taia
11 Joey Jensen
12 Tyson Chase
13 Jacson Lott
Int
14 Mitch Fogarty
15 Zach McMinn
16 Tai Laidlow
17 Brayden Ross
18 Daniel Rigano
Coach: Dave Elliott