U18s Mendi Blackhawks Win First Home Game For 2021
Thursday, April 1, 2021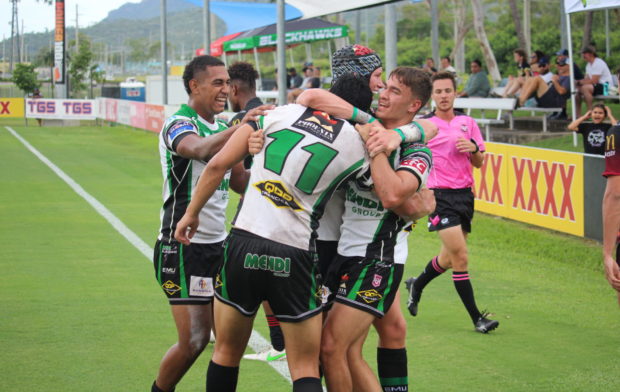 U18s Mendi Blackhawks remain undefeated with only one game remaining.  Photo Katelyn Vidler
BLACKHAWKS MEDIA
The Townsville & Districts Mendi Blackhawks U18s have secured a finals spot in the Auswide Bank Mal Meninga Cup finals, with a 32-0 win over the Mackay Cutters.
With only one game remaining in the regular season, the Mendi Blackhawks U18s are undefeated, and have only conceded 10 points scored against them, back in round 1 against the Mackay Cutters.
The Mendi Blackhawks started on a high running out in front of a home crowd for the first time in 2021.
"We wanted to play well for our first home game," Coach Steve Sheppard said.
"Our aim was to work on our defence, so keeping them to zero was definitely the highlight," Coach Steve Sheppard said.
"Despite the score, the weather conditions held us back a bit, but they did really well to overcome that."
"I was pleased with the whole team, but particularly Tyreice Baira-Gela had a really good game today as well as our Captain Luke Jack."
"We tried not to talk about the finals leading up to this game, we just wanted to defend well, and they did that."
Captain of the Mendi Blackhawks U18 Luke Jack also commended his team on a good effort.
"We started off a bit slow, but once we got a roll on, it was good to put them away in the end." Jack said.
"I was proud of how they defended, keeping them scoreless, it was a good team effort."
The Mendi Blackahwks U18s final competition game will be back at home 4pm Sunday, April 17 against the Northern Pride.
If successful, the team will go on to play in the semi-finals on ANZAC Weekend before the Grand Final on May 1-2 (to be announced).
The winner of the Grand Final will then go on to the in the National Final on May 8-9 (to be announced) against the winner of the SG Ball Winner (NSWRL).
TOWNSVILLE MENDI BLACKHAWKS TRIES: Dudley DOTOI 11′, Cathane HILL 15′, Tyreice Baira-Gela 40′, Cruz SMITH 43′, Tyreice Baira-Gela 54′, Jordan DAVIES 61′ CONVERSIONS: Thomas Duffy 4/6