Round 2 Mendi Blackhawks Team Lists
Wednesday, March 24, 2021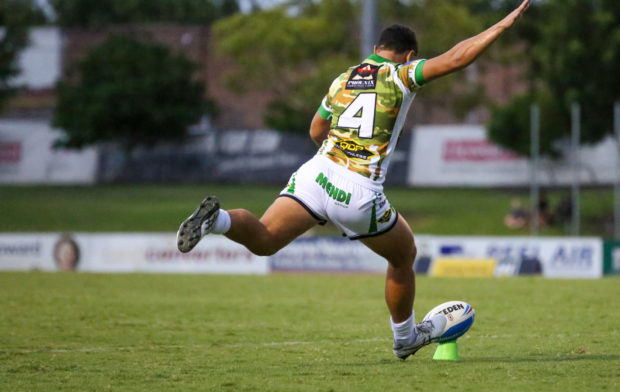 Mendi Blackhawks kick off their first home game since September 2019 this Saturday. Photo – Daejarn Asi QRL Media
BLACKHAWKS MEDIA
The Townsville & Districts Mendi Blackhawks will play their first home games for 2021 this Saturday at Jack Manski Oval.
The team haven't played an competition game in front of a home crowd since September 2019 and are looking forward to be back.
Four of the five Mendi Blackhawks teams will be competing, commencing with the Cyril Connell Challenge U16s at 11.30am, Harvey Norman U19 girls at 1pm, Auswide Bank Mal Meninga Cup U18s at 2.30pm and the main game at 4pm.
Games will not be live streamed, but live score updates are available for each game.
RD4 Cyril Connell Challenge U16s
Mendi Blackhawks V Mackay Cutters
Jack Manski Oval, 11.30am
1 Terry Connors
2 Darby Butler
3 Jack Prior
4 Harley Walker
5 Rayzarlin Pearson
6 Lachlan Erba
7 Reece Foley
8 Jay O'Loughlin
9 Jack Wood
10 Elijah Tapau-Taylor
11 Izaya Leedie
12 Anton Bolton
13 Jamal Shibasaki (c)
Int
14 Lachlan Doig
15 Danny Williams
16 Darcy Di Bella
17 Orlando Nawarie
18 Eli Adams
Coach: Nathan Norford
RD4 Harvey Norman U19s
Mendi Blackhawks V Mackay Cutters
Jack Manski Oval, 1pm
1 Jamaica Lampton
2 Talei Koroibulu
3 Teneal Baker
4 Shania Nordlorf
5 Michelle Abai
6 Nahlani Ah Kit
7 Babetha Neliman
8 Jacinta Maurangi
9 Tiyanna Trevaskis
10 Jordii-rai Mahendrarajah (c)
11 Indee Everett
12 Emma Wood
13 Courtney Reynolds
Int
14 Lucy Bradford
15 Jodie Tilse
16 Charlise Clough
17 Theophelia Mosby
18 Niquita Peters
19 Jasmyn Braby
Coach: Pete Edmonds
RD4 Auswide Bank Mal Meninga Challenge U18s
Mendi Blackhawks V Mackay Cutters
Jack Manski Oval, 2.30pm
1 Ragsy Wavik
2 Jodeci Baker-Tiraha
3 Xavier Chatfield-Mooka
4 Dudley Dotoi
5 Cathane Hill
6 Harley Taylor
7 Thomas Duffy
8 Damon Marshall
9 Tyreice Baira-Gela
10 Arama Kite
11 Mia Pua'avase
12 Will Latu
13 Luke Jack (c)
Int
14 Jordan Davies
15 Ethan Roberts
16 Sione Afu
17 Cruz Smith
18 Sean Bourke
Coach: Steve Sheppard
RD2 Intrust Super Cup
Mendi Blackhawks V Brisbane Tigers
Jack Manski Oval, 4pm
1 Josh Hoffman
2 Michael Carroll
3 Justin O'Neill
4 Daejarn Asi
5 Kalifa Faifai-Loa
6 Kyle Laybutt
7 Jaelen Feeney
8 Joe Boyce
9 Josh Chudleigh
10 Sam Hoare (c)
11 Tom Hancock
12 Patrick Kaufusi
13 Jordan Kenworthy
Int
14 Carlin Anderson
16 Kieran Quabba
17 Griffin Neame
22 Sione Lousi
15 Samuel Murphy
Coach: Aaron Payne
Good luck teams! 🍀