Blackhawks Ready to Launch into Round 1
Wednesday, March 17, 2021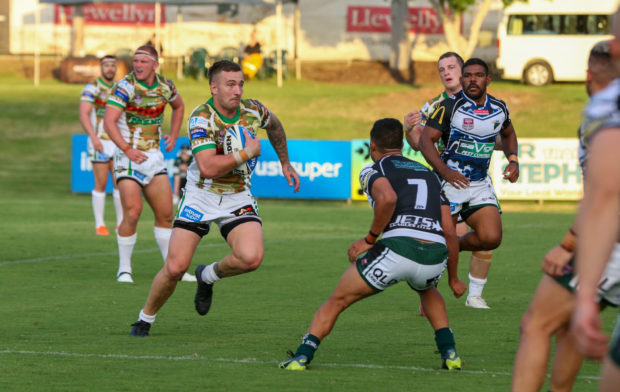 Round 1 of the Mendi Blackhawks Intrust Super Cup commences this Saturday.  Photo QRL Media
BLACKHAWKS MEDIA
After 371 days, the Mendi Blackhawks Intrust Super Cup season is back and pre-season officially over!
The team flies out this Saturday to Ipswich, almost a year since since these two teams met, unaware it was going to be their one and only game of 2020.
The Mendi Blackhawks started the 2020 season on a high winning the game 16-10. The season was cancelled six days later.
Both teams will be looking to start the season off with a win.
"It's been a long pre-season," Coach of the Mendi Blackhawks Aaron Payne said.
"A cheer went up in the gym last week when we announced pre-season was officially over."
"We have had a good taste of footy during the trial games, but now there is much more at state, chasing the two points."
Payne said he has named his strongest team available with Patrick Kaufusi and Cameron King set to play their first game for the Mendi Blackhawks.
Bacho Salam will move to the wing to make way for North Queensland Cowboys centre Justin O'Neill, with Michael Carroll unlucky to miss out.
"We've gone big on the bench and need to be good defensively, be physical in attack and limit their opportunities."
"We need stick to our game plan, respect the footy and execute what we plan."
The Mendi Blackhawks U21's have a trial match against Brothers Townsville 6pm at Jack Manski Oval.
Mendi Blackhawks U16s, U18s & U19s all have byes.
Round 1 Intrust Super Cup
Mendi Blackhawks V Ipswich Jets
North Ipswich Reserve
Saturday March 20, 5pm
1 Josh Hoffman
2 Bacho Salam
3 Justin O'Neill
4 Daejarn Asi
5 Kalifa Faifai-Loa
6 Kyle Laybutt
7 Jaelen Feeney
8 Joe Boyce
9 Josh Chudleigh
10 Sam Hoare (c)
11 Tom Hancock
12 Patrick Kaufusi
13 Jordan Kenworthy
Int
14 Cameron King
16 Kieran Quabba
17 Griffin Neame
22 Sione Lousi
15 Carlin Anderson
Coach: Aaron Payne