Teams Names Round 2 Mendi Blackhawks Junior Teams
Thursday, March 11, 2021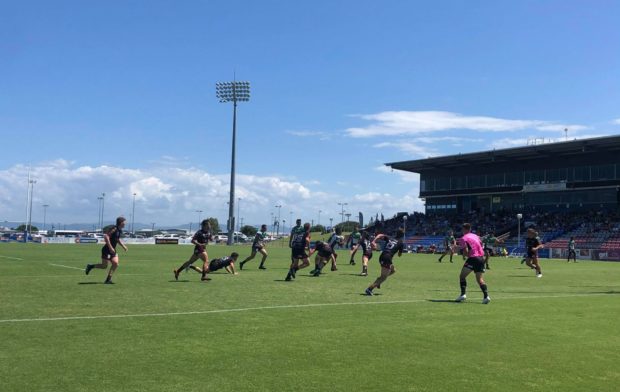 All three Mendi Blackhawks Junior teams head to Cairns this Saturday for Round 2.
BLACKHAWKS MEDIA
The Townsville & Districts Mendi Blackhawks three junior teams will head to Cairns this weekend for Round 2 of the Cyril Connell Challenge U16s, Auswide Bank Mal Meninga Cup U18s and Harvey Norman U19 girls.
The U16s and U18s are looking for two for two wins, while are girls will be chasing their first win of 2021.
RD2 Cyril Connell Challenge U16s
Mendi Blackhawks V Northern Pride
Barlow Park, Cairns 1pm 
1 Terry Connors
2 Darby Butler
3 Jack Prior
4 Harley Walker
5 Tekelu Mene
6 Lachlan Erba
7 Reece Foley
8 Jay O'Loughlin
9 Jack Wood
10 Elijah Tapau-Taylor
11 Izaya Leedie
12 Anton Bolton
13 Jamal Shibasaki (c)
Int
14 Adrian Sandy
15 Danny Williams
16 Darcy Di Bella
17 Lachlan Doig
22 Leon Wood
Coach: Nathan Norford
RD2 Auswide Bank Mal Meninga Challenge U18s
Mendi Blackhawks V Northern Pride
Barlow Park, Cairns 2.30pm
1 Ragsy Wavik
2 Jordan Davies
3 Xavier Chatfield-Mooka
4 Dudley Dotoi
5 Cathane Hill
6 Harley Taylor
7 Thomas Duffy
8 Cruz Smith
9 Tyreice Baira-Gela
10 Arama Kite
11 Mia Pua'avase
12 Will Latu
13 Luke Jack (c)
Int
14 Sean Bourke
15 Ethan Roberts
16 Sione Tuitupou
17 Damon Marshall
18 Manihi Maurangi
19 Maverick Peteraro
20 Darnell Geia
Coach: Steve Sheppard
RD2 Harvey Norman U19s
Mendi Blackhawks V Northern Pride
Barlow Park Cairns, 4pm
1 Jamaica Lampton
2 Jasmyn Brady
3 Teneal Baker
4 Shania Nordlorf
5 Indee Everett
6 Nahlani Ah Kit
7 Babetha Neliman
8 Jacinta Maurangi
9 Tiyanna Trevaskis
10 Theopheli Mosby-Nona
11 Jordii-rai Mahendrarajah (c)
12 Emma Wood
13 Jodie Tilse
Int
14 Lucy Bradford
15 Remi Bishop
16 Charlise Clough
17 Elizabeth (Grace) Loto
18 Niquita Peters
19 Ella Whittle
20 Michelle Abai
21 Talei Koroibulu
Coach: Pete Edmonds
Good luck teams! 🍀