Mendi Blackhawks U18s Ready for Kick Off
Friday, March 5, 2021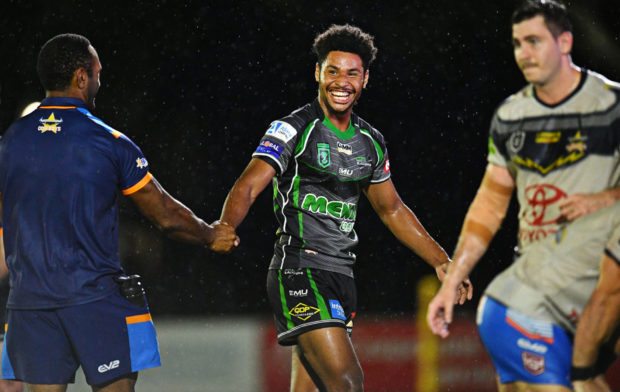 Mendi Blackhawks U18s kick off their season tomorrow against the Mackay Cutters tomorrow.  Pictured Ragarive Wavik.  Photo Alix Sweeney
BLACKHAWKS MEDIA
Coach of the Townsville Mendi Blackhawks Auswide Bank Mal Meninga Cup Under 18s team Steve Sheppard has a simple message for his team before the Round 1 clash against the Mackay Cutters tomorrow.
Sheppard wants his team to "compete" on every play.
"We are looking to play the Mendi Blackhawks way, and that is to compete on every play,"
"The Mendi Blackhawks are only a young club but have built its foundations on competing at all times and that's what I will be looking for in this game".
Mendi Blackhawks fans received a glimpse of what to expect in Round 1 following the Under 21 trial against the Northern Pride last weekend.
Sheppard was particularly pleased with how Ragarive Wavik, Tom Duffy and Under 18's captain Luke Jack acquitted themselves in the older age group.
The performance of Ragarive Wavik was impressive enough for Head Coach Aaron Payne to use him in the Intrust Super Cup game that followed.
Sheppard stressed though that the he was looking for a collective team effort and did not want to be relying on any one individual.
All players and staff will be triple checking their alarms to ensure they make the 4.45am bus departure for this game.
"We have discussed the early start and agreed we will embrace it," Sheppard said.
"The players will be looked after well on the bus, and we have to take a mentality of wanting to take on anyone, anywhere at any time".
With limited football being played during 2020, Sheppard confirmed the team was excited to be playing again and cannot wait to get on the paddock representing the Townsville Mendi Blackhawks again.
The last words from the coach were "we are excited and looking forward to kick off!"
RD1 Auswide Bank Mal Meninga Challenge U18s
Mendi Blackhawks V Mackay Cutters
BB Print Stadium, 12.55pm
1 Ragsy Wavik
2 Jordan Davies
3 Xavier Chatfield-Mooka
4 Dudley Dotoi
5 Cathane Hill
6 Harley Taylor
7 Thomas Duffy
8 Cruz Smith
9 Tyreice Baira-Gela
10 Arama Kite
11 Mia Pua'avase
12 Will Latu
13 Luke Jack (c)
Int
14 Sean Bourke
15 Ethan Roberts
16 Sione Tuitupou
17 Damon Marshall
18 Manihi Maurangi
19 Eddie Hampson
Coach: Steve Sheppard