Mendi Blackhawks U16s Kick off Competition
Friday, March 5, 2021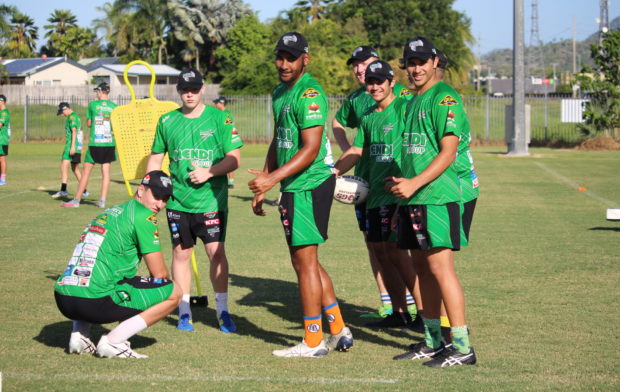 Our Mendi Blackhawks U16s will officially kick off the competition points this weekend in their Round 1 clash against Mackay.  Photo Blackhawks Media
BLACKHAWKS MEDIA
Finally competition footy is back!
Our Mendi Blackhawks Under 16 team has the privilege of being the first team to play for competition points in nearly 12 months, competing in the Cyril Connell Challenge against Mackay this weekend.
Coach Nathan Norford confirmed his team is excited and ready to play first up on Saturday.
"The team is very excited to be playing this level of football and cannot wait to rip in," Norford said.
"We are a relatively new group so I'm looking forward to watching them gel on the field."
"Everyone is looking forward to seeing how the team perform as a whole, especially a couple of players including. our young winger Tekelu Mene who is an exciting player if he gets room to move,"
"Our captain Jamal Shibasaki is someone who could cause trouble for the defence".
Norford said he players knowing their role was vital if they wanted to commence the season with a win.
"Players need to know their job and do their job, if that happens and they play with enthusiasm and enjoy themselves I will be happy."
As with the Under 18's, the team will be up before the sun to make the trip to Mackay.
Norford emphasized this was a great opportunity to learn and get used to travel.
"We are playing in a different league and so we have to get used to travel, learn from the experience and ensure we take the opportunity we have been given".
Asked about his own experience on coaching the team.
"It has been a wonderful opportunity and I am thoroughly enjoying it."
"We will not be perfect in our first game but if we can keep doing the little things correctly we will give ourselves every chance of getting the result."
RD1 Cyril Connell Challenge U16s
Mendi Blackhawks V Mackay Cutters
BB Print Stadium, 11.30am 
1 Terry Connors
2 Darby Butler
3 Jack Prior
4 Harley Walker
5 Tekelu Mene
6 Lachlan Erba
7 Reece Foley
8 Jay O'Loughlin
9 Jack Wood
10 Leon Wood
11 Izaya Leedie
22 Anton Bolton
13 Jamal Shibasaki (c)
Int
14 Adrian Sandy
15 Danny Williams
16 Darcy Di Bella
17 Elijah Tapau-Taylor
18 Orlando Nawarie
Coach: Nathan Norford