Teams Names for Final Trial and Round 1
Wednesday, March 3, 2021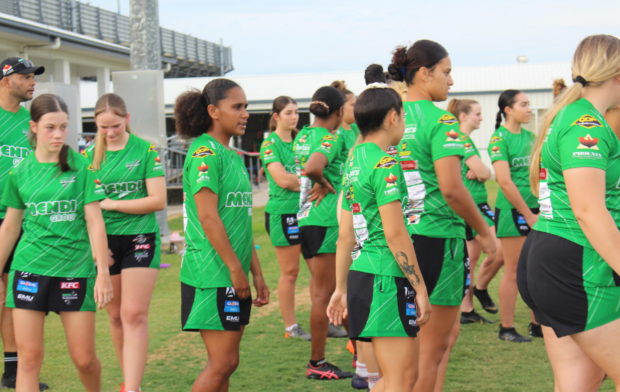 For the first time ever, all 5 Mendi Blackhawks teams head to Mackay to play this Saturday in the final trials and Round 1.  Photo Blackhawks Media
BLACKHAWKS MEDIA
The Townsville & Districts Mendi Blackhawks five teams head to Mackay this weekend for the second and final trial for in the Intrust Super Cup and Hastings Deering Colts and Round 1 for the Cyril Connell Challenge U16s, Auswide Bank Mal Meninga Cup U18s and Harvey Norman U19 girls.
This will be the first time all 5 teams play on the same day and Football Operations Manager Adrian Thomson said it was an exciting new era for the club.
"This is the first time we have a female team as part of the club, and it's something we have been wanting to have for a long time," Thomson said.
"Although the competitions for our junior teams are only four games each, it is really important for our junior development and pathways."
RD1 Cyril Connell Challenge U16s
Mendi Blackhawks V Mackay Cutters
BB Print Stadium, 11.30am 
1 Terry Connors
2 Darby Butler
3 Jack Prior
4 Harley Walker
5 Tekelu Mene
6 Lachlan Erba
7 Reece Foley
8 Jay O'Loughlin
9 Jack Wood
10 Leon Wood
11 Izaya Leedie
22 Anton Bolton
13 Jamal Shibasaki (c)
Int
14 Adrian Sandy
15 Danny Williams
16 Darcy Di Bella
17 Elijah Tapau-Taylor
18 Orlando Nawarie
Coach: Nathan Norford
Live score updates will be on the QRL website
RD1 Auswide Bank Mal Meninga Challenge U18s
Mendi Blackhawks V Mackay Cutters
BB Print Stadium, 12.55pm
1 Ragsy Wavik
2 Jordan Davies
3 Xavier Chatfield-Mooka
4 Dudley Dotoi
5 Cathane Hill
6 Harley Taylor
7 Thomas Duffy
8 Cruz Smith
9 Tyreice Baira-Gela
10 Arama Kite
11 Mia Pua'avase
12 Will Latu
13 Luke Jack (c)
Int
14 Sean Bourke
15 Ethan Roberts
16 Sione Tuitupou
17 Damon Marshall
18 Manihi Maurangi
19 Eddie Hampson
Coach: Steve Sheppard
Live score updates will be on the QRL website
RD1 Harvey Norman U19s
Mendi Blackhawks V Mackay Cutters
BB Print Stadium, 2.30pm
1 Jamaica Lampton
2 Talei Koroibulu
3 Teneal Baker
4 Remi Bishop
5 Indee Everett
6 Tiyana Trevaskis
7 Babetha Neliman
8 Shanaya Watson
9 Nahlani Ah Kit
10 Jordii-rae Mahendrarajah (c)
11 Jacinta Maurangi
22 Courtney Reynolds
13 Emma Wood
Int
14 Lucy Bradford
15 Jodie Tilse
16 Keira Roorda
17 Elizabeth (Grace) Loto
18 Ella Whittle
Coach: Pete Edmonds
Live score updates will be on the QRL website
Trial 2 Hastings Deering Colts U21s
Mendi Blackhawks V Mackay Cutters
BB Print Stadium, 4pm
Team to be updated
1 Dylan White
2 Jesse Yallop
3 Ethan Hagarty
4 Daniel Rigano
5 Braithen Knox
6 Jake Bourke
7 Aaron Moore
8 Hamilton Taia
9 Mitch Fogarty (C)
10 Brayden Ross
11 Riley Price
12 Tyson Chase
13 Jackson Lott
Int
14 Joel Baldwin
15 Zac McMinn
16 Daniel Buckland
17 Jacob Taia
18 Tai Laidlow
19 Tareq Parte
20 Jordan Lipp
22 Maletino Lafago
Coach: Dave Elliott
Trial 2 Intrust Super Cup
Mendi Blackhawks V Mackay Cutters
BB Print Stadium, 6pm
1 Josh Hoffman
2 Zinzaan Martin
3 Bacho Salam
4 Daejarn Asi
5 Kalifa Faifai-Loa
6 Kyle Laybutt
7 Jaelen Feeney
8 Joe Boyce
9 Cameron King
10 Sam Hoare
11 Tom Hancock
12 Nathan Barrett
13 Jordan Kenworthy
Int
14 Sam Murphy
15 Kieran Quabba
16 Nick Brown
17 Griffin Neame
18 Riley Price
20 Ty Everett
22 Sione Lousi
Coach: Aaron Payne
Good luck teams! 🍀