History Made as Girls Kick Off This Weekend
Wednesday, March 3, 2021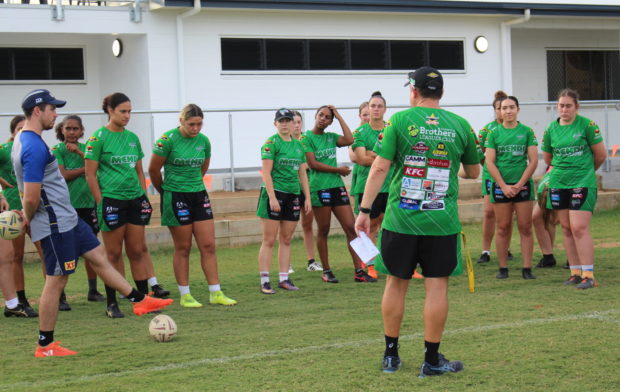 History will be made this weekend with the Mendi Blackhawks Harvey Norman Under 19 girls kicking off their brand new competition for the first time.  Photo Blackhawks Media
Colleen Edwards – QRL Wedsite & Blackhawks Media
History will be made this weekend as the Mendi Blackhawks Harvey Norman Under 19 girls head to Mackay for their first game in a brand new competition for the club and Queensland Rugby League.
When announcing the new competition, QRL competitions manager Dave Maiden said it was designed to give players a taste of what was to come if players chose to pursue a playing pathway with the BHP Premiership.
"The vision of the QRL has always been to provide equitable pathways for our male and female participants and the Harvey Norman Under 19 competition begins the statewide representative journey for our female athletes," Maiden said.
The competition will be played within regional conferences in 2021 to complement the BHP Premiership that launched in 2020.
There are a total of 12 competing clubs, with teams fielded by the majority of Intrust Super Cup clubs.
The Mendi Blackhawks will play four competition games, two home and two away,  against the Mackay Cutters and Northern Pride.
Coach of the Mendi Blackhawks U19's Pete Edmonds said the team is excited and ready to play.
"It's a very exciting era for girls Rugby League and for their representative pathways," Edmonds said.
"Some of these girls will potentially have an opportunity to play Gold Stars this year after the season as well."
"We've had a really good pre-season and the girls can't wait to get out there this Saturday and start playing."
The game kicks at 2.30pm from BB Print Stadium, Mackay.
Mendi Blackhawks Harvey Norman U19 Girls v Mackay Cutters
BB Print Stadium, Saturday 6 March, 2.30pm
1 Jamaica Lampton
2 Talei Koroibulu
3 Teneal Baker
4 Remi Bishop
5 Indee Everett
6 Tiyana Trevaskis
7 Babetha Neliman
8 Shanaya Watson
9 Nahlani Ah Kit
10 Jordii-rae Mahendrarajah (c)
11 Jacinta Maurangi
22 Courtney Reynolds
13 Emma Wood
Int
14 Lucy Bradford
15 Jodie Tilse
16 Keira Roorda
17 Elizabeth (Grace) Loto
18 Ella Whittle
Coach: Pete Edmonds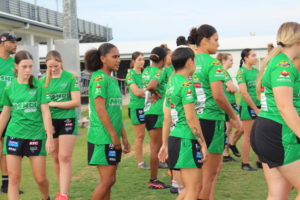 | RND | DATE | TIME | HOME / AWAY | OPPOSITION | VENUE | RESULTS |
| --- | --- | --- | --- | --- | --- | --- |
| 1 | BYE ROUND | | | | | |
| 2 | Sat, 5 March | 3pm | Away | Northern Pride | Barlow Park | 14-0 |
| 3 | Sat, 12 March | 12.55pm | Away | Mackay Cutters | Denison Park, Bowen | 28-8 |
| 4 | Sun, 20 March | 12.30pm | Home | CQ Capras | Jack Manski Oval | 26-20 |