1st Trial Match of 2021
Monday, March 1, 2021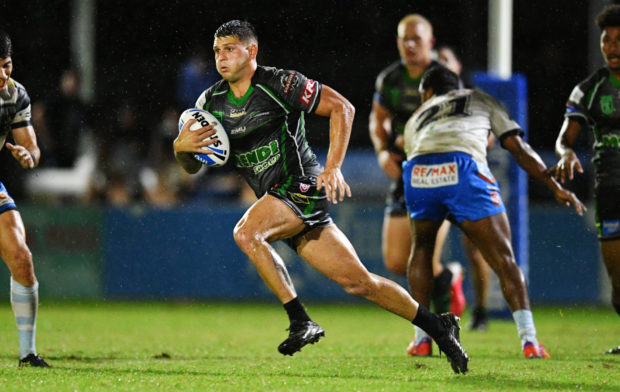 Carlin Anderson in action for the Mendi Blackhawks in their first trial of 2021.  Photo Alix Sweeney
BLACKHAWKS MEDIA
In true North Queensland fashion, any sign of the words "trial match" and the rain God's seem to spring into action.
The rain threatened all day, but luckily held off until the second half of the main game, however, it certainly did not dampen the enthusiastic players and spectators who arrived at Jack Manski Oval for the first time in 2021.
The Mendi Blackhawks Hastings Deering Colts U21's started the day with their trial match against the Northern Pride U21's.
The home team won the game 44-16 and Coach Dave Elliott said he was pleased with his teams performance.
"I was really happy, the team played some good footy on the weekend," Elliott said.
"The most pleasing thing was that it was a slightly less experienced younger side, with some of the team coming through our U18s development pathway."
"After such a long pre-season, these boys really stood up and performed well."
Coach of the Northern Pride Ty Williams would have been happy with his teams 34-6 win over the Mendi Blackhawks in their first Intrust Super Cup trial of the year.
The visitors scored two unanswered tries in the first half, heading into the break 10-0.
The Mendi Blackhawks hit back with a try in the second half, but could not catch their northern neighbours, the final score 34-6.
Coach Aaron Payne said that despite only being a trail, he was disappointed with the performance.
"This trial game was used to give some of our younger players an opportunity at Intrust Super Cup level," Payne said.
"Despite being a trial match, we still would have liked to win."
" It was still good to give these younger players some experience, and I hope they can learn and improve from it."
Next week the Mendi Blackhawks travel to Mackay for their second and final trial match of 2021.
U21s: Mendi Blackhawks 44 def Northern Pride 6
Mendi Blackhawks Tries: Jesse Yallop 2, Ethan Hagarty 2, Brayden Ross, 2, Ragsy Wavik, Jacson Lott Convsion: Tom Duffy 3, Joel Baldwin 2, Zac McMinn
Intrust Super Cup: Mendi Blackhawks 6 Northern Pride 34
Mendi Blackhawks Tries: Kieran Quabba Conversion: Daejarn Asi