Cameron King Joins the Mendi Blackhawks
Thursday, December 10, 2020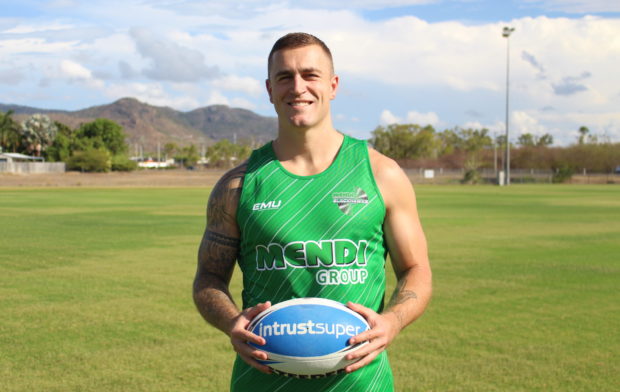 Cameron King joins the Mendi Blackhawks for Season 2021.  Photo Blackhawks Media
BLACKHAWKS MEDIA
Cameron King has officially arrived in Townsville and has commenced training with the Mendi Blackhawks.
The talented number nine, signed a one-year-deal for 2021, after announcing his retirement from the NRL earlier this year.
King began the year training with the Cronulla Sharks, after returning from overseas, unfortunately suffering an ACL injury during a trial match, ending what we know now was going to be a very unprecedented year.
2021 will be King's second stint in Townsville, the first being a member of North Queensland Cowboys premiership winning squad in 2015, only leaving to take up a contract with the Parramatta Eels and an opportunity to play more NRL.
It was in this time in Townsville that King met his now wife Kristy, who are the proud parents of 8-month-old Arabella.
"This year has been crazy for everyone," King said.
"Two weeks after my operation, our daughter Arabella was born, then two weeks after that the entire NRL shut down."
"It gave me the chance to be a very hands on dad, and made us realise what is most important to us as a family."
"We are very excited to be based back in Townsville."
"My wife's family is all up here, and it makes us happy that our daughter will be able to grow up around cousins and everyone."
"I'm nine months post-op now and ready to ramp up my training."
"I have learnt a lot over the years and like to think I can understand the game better."
"So far I'm really enjoying my time at the Mendi Blackhawks, and excited for a successful 2021."
Coach of the Mendi Blackhawks Aaron Payne said he was looking forward to having King at the club.
"Cameron and I played together at the Cowboys towards the back end of my career and he was always a good trainer," Payne said.
"He will bring plenty of experience to the team and add some depth to the nine position, along with Josh Chudleigh and Sam Murphy,"
"Experience like his in invaluable at this level, and he always conducts himself as a professional, which a lot of our youngers guys can learn off him."
The Townsville Mendi Blackhawks will kick off their 2021 season on March 20 against the Ipswich Jets.