Blackhawks Back for Season 2021
Thursday, November 26, 2020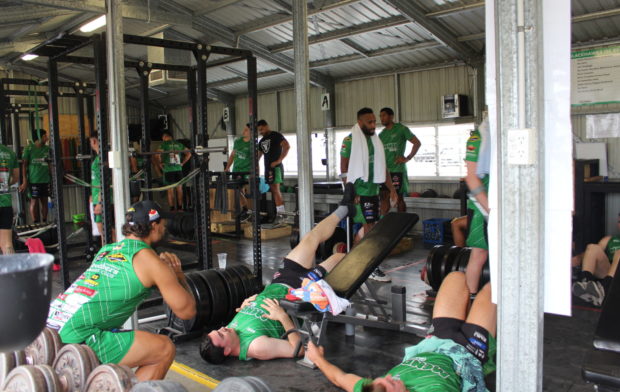 Training is back for the Mendi Blackhawks for Season 2021.  Photo Blackhawks Media
BLACKHAWKS MEDIA
It was hard to tell who was more excited, at Jack Manski oval yesterday as the Townsville Mendi Blackhawks returned to training for the first time since COVID-19 cut short season 2020.
Coach of the Mendi Blackhawks Aaron Payne was pleased with the form of his returning players and excited to welcome some new faces in the black and green.
"I don't know who was more excited the players or the coaches," Payne said.
"After the different sort of year we had, it was good to see everyone back in high spirits again around their teammates."
Starting with a welcome, weights and fitness testing, the first session was a chance for new Strength and Conditioning Coach Mat Ham to get to know the players, and they get to know him.
"The fitness test indicated that they have come back well," Payne said.
"We knew they would, because we know what type of guys they are."
"They are not only professional, but the fact they completed optional training we facilitated for them, we knew they would come back in good shape."
"We are close to finalising our squad, with only a couple more returning players to go,"
"And we are still waiting on new signing Cameron King to arrive, as soon as he is allowed to travel up here, which we are all excited about."
"It's also great to have Shaun Nona back too after his stint in France was cut short."
A selection of Mendi Blackhawks U21's players have also been rewarded for their hard work with pre-season training with the Intrust Super Coach squad.
"These younger players were strong in the trials and last years pre-season and deserve an opportunity to train and possibly play Intrust Super Cup."
"They too had their season cut short, but they are keen to make the most of this opportunity."
Payne said the reward for the teams commitment this year is a shorter pre-Christmas training schedule.
"Our goal until we break is to get our basic core skills right," Payne said.
"We want to lay a good platform for our physical perspective so when we return after our break, it will be more of a football focus."
"As a Coach, for a first training session, I was very pleased with what I saw."