Mendi Blackhawks Sign New Strength and Conditioning Coach
Monday, November 2, 2020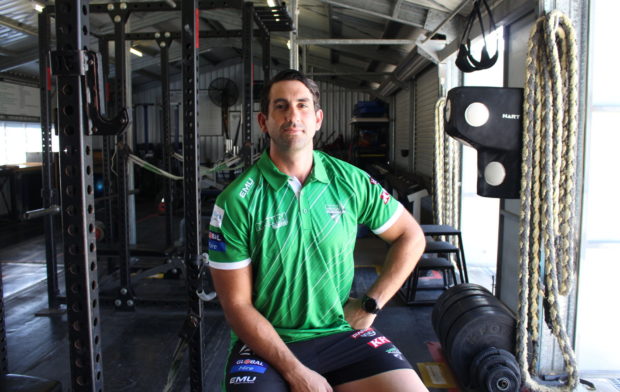 Welcome to the Mendi Blackhawks new S&C Coach, Matthew Ham. Photo Blackhawks Media
BLACKHAWKS MEDIA
The Mendi Blackhawks have announced the signing of Matthew Ham as head Strength and Conditioning Coach for season 2021, after the departure of Jason Tassell.
Former Burdekin boy, Ham left the region, after completing a Sports Science degree at James Cook University
His impressive credentials include a Bachelor of Sport Exercise Science, a Master of Sport Exercise Science (Focus on Strength and Conditioning), Level 2 Pro Coach and a Level 3 Master Coach.
After his studies, Ham was selected to play professional soccer for the Brisbane Roar in 2005.
He then played for the Gold Coast United, before finishing his player career at the Northern Fury in season 2010-11.
Football Operations Manager Adrian Thomson said he believes Ham's expertise will continue to strengthen the club.
"Matt was recommended to us by Chris Muckert, and straight away ticked all of our box's." Thomson said.
"He originated from our region, has very good credentials and is also a good person, which is important for our club."
"We have had three previous very good S&C coach's with Daniel Strickland, James Moran and Jason Tassell, and these guys have set a high standard, which Matt will now continue."
"I would like to pay special tribute to Jase (Tassell) who has done a great job here, not only with our players, but he has also done a fantastic job upgrading our gym and equipment."
"He will definitely be missed around here."
"Matt will have very competent people with plenty of experience around him, with Christian Quabba and John Alloway, to assist and guide him, if required."
For the past six years, Ham has owned and operated his own gym in Brisbane called "Hammer Athletics", training athletes for all sports including, soccer, swimming and boxing.
It was good timing for Ham who had just moved back to Townsville with his wife and young family, who is in the process of taking over a family business.
"Being from the region, I've always followed the Cowboys and the Mendi Blackhawks since they started in 2015," Ham said.
"From the outside I could see the club as successful, making the finals every year and providing a good pathway for players and staff to the NRL."
"I'm really excited to have been given this opportunity, knowing I have big shoes to fill."
"The main difference in training soccer and rugby league player is match fitness and collision strength."
"Rugby League players don't have to do as much running but need more muscle strength."
"My main focus will be to train the players, so they are fresh and strong and to protect them during pre-season from soft tissue injuries, to keep them on the field longer during the season."
"Hopefully I can continue the legacy already set at the Mendi Blackhawks and make the players even better athletes."
The Mendi Blackhawks will commence COVID safe training on November 25.