2020 Mendi Blackhawks Update
Wednesday, September 2, 2020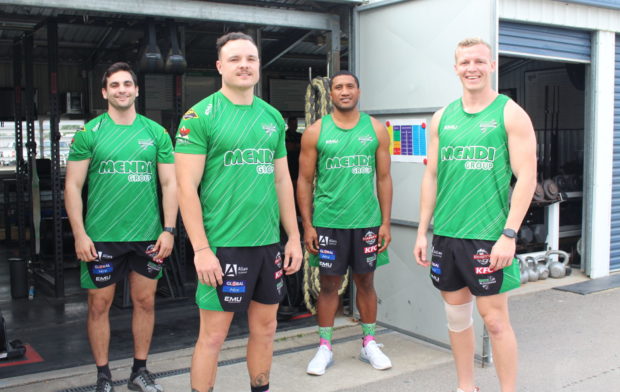 Got to keep em' separated! Pictured (L-R) Kieran Quabba, Jaelen Feeney, Kalifa Faifai-Loa and Kyle Laybutt at Mendi Blackhawks optional training.  Photo Blackhawks Media
BLACKHAWKS MEDIA
On what was supposed to be the first weekend of finals footy this weekend, the Townsville and Districts Mendi Blackhawks have resumed an optional training schedule for players wishing to participate.
With Coach Aaron Payne, swapping his hi-vis for hi-fives, taking up a position as fill-in Assistant Coach at the North Queensland Toyota Cowboys for the remainder of 2020, Mendi Blackhawks Assistant Coach's Christian Quabba, Steve Sheppard and Dave Elliott have putting the boys through their paces.
Football Operations Manager Adrian Thomson said the boys have been eager participants.
"We have approximately 20-30 players at each training season," Thomson said.
"The group have been keeping themselves fit, so when official training starts, hopefully in the not too distant future, they will be ready to go."
It hasn't all been bad news for the Mendi Blackhawks in 2020 with the club growing in numbers.
"We have welcomed two babies to the club in 2020 with Temone Power and Patrick Kaufusi both becoming first time fathers, and there is a couple more on the way in the not too distant future."
The club also announced it has extended Head Coach Aaron Payne's contract through to the end of 2021.
"Aaron has been great around the club," Thomson said.
"He gets a positive response out of all the players and we want to see how far he can take them."
"We are happy the Cowboys are using his skills as an assistant coach for the remainder of the year,"
"We are always pleased when our players get promoted to NRL, and it's the same for our Coach's."
Mendi Blackhawks host club Brothers Leagues Club Townsville, has also completed their major renovations, creating one of the best two-level outdoor dining areas with views of the field, in Queensland.
"The club looks spectacular," Thomson said.
"The board and everyone have done a great job completing the renovations during COVID, so when we start back, we will be ready to go and look forward to showing off their great work."
Thomson said they aim to retain most of the players for 2021.
"We have started our retention process and want to resign as many of this years squad as possible."
"We are still waiting to see what our future will look like,"
"But when we find out, our boys will be ready to go."