Blackhawks Beat Jets After Tight Tussle
Sunday, March 15, 2020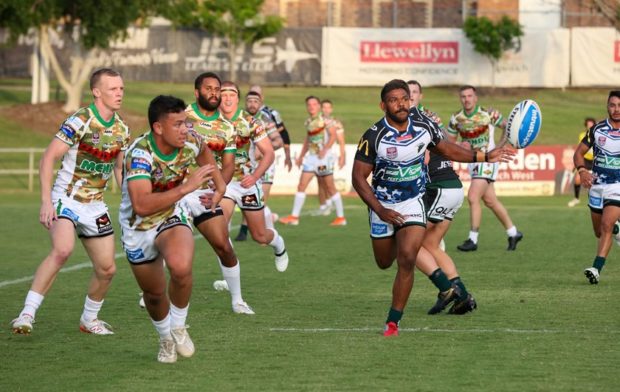 The Mendi Blackhawks defeated the Ipswich Jets 16-10 in round 1 of the Intrust Super Cup.  Photo Jorja Brinums QRL Media
Michael Nunn, QRL Correspondent, Sat 14 Mar 2020
The Townsville Mendi Blackhawks travelled to Ipswich to take on the Ipswich Jets looking to continue their recent domination of their south east corner foe.
The Mendi Blackhawks have won three of the last four against the Jets and have enjoyed the trip to North Ipswich Reserve coming home with the two points three of the last five.
The Jets had some changes with Nemani Valekapa ruled out and Shar Walden in the centres, Zac Hetherington failed a fitness test Thursday night and Keena Yorston came in on debut for the Jets and game three in the Intrust Super Cup after playing with Easts Tigers last season.
The Jets and Mendi Blackhawks got in the trenches and slugged it out – Tyler Coburn, on debut, suffered a head knock and had to go off to complete an HIA after a rough start to Cup.
It was exciting football but both teams struggled for momentum. With goal line defence too strong for either team to penetrate.
It took 25 minutes for points to be on offer when Josh Cleeland indicated the Jets would take the two points. Cleeland has his first goal of 2020.
Jets had the lead 2-0 with 15 minutes until half time.
The Jets No.6 Cleeland wasn't done with this half yet and added six points to the Jets tally with five minutes until half time, when he rolled a kick in, two Mendi Blackhawks players applied the brakes and nearly flew into each other and that left Jayden Connors to score his first try of the season with a simple touch of the ball.
Cleeland added another two points and Jets led 8-0 with five minutes to go.
The Mendi Blackhawks turned their zero into two after a Peter Gubb penalty right on half time and Carlin Anderson added two points.
At the break of an entertaining half the Jets had a six point lead 8-2.
Five minutes into the second half Josh Cleeland added another two points and the Jets were looking calm at 10-2.
It took Townsville's attack a while to get going but when it did it was centre Daejarn Asi who took advantage of back-to-back penalties and scored for the Blackhawks to record their first try through the hands on the right hand side.
Murray Taulagi add two points and the Jets lead was down to two points with 18 minutes to go.
Jake Marketo had plenty of experience to draw on five minutes later when he bumped his way over and the Mendi Blackhawks had the lead 12-10.
Kyle Laybutt put the doubt to sleep with two late penalty goals and Townsville had a 16-10 win.
ISC
Mendi Blackhawks 16 – 10 Ipswich Jets
Try Scorers
Daejarn Asi 59′
Jake Marketo 69′
Conversions
Murray Taulagi 1/2
Penalty Goals
Carlin Anderson 1/1
Kyle Laybutt 2/2
U20's
Mendi Blackhawks 54 – 0 Ipswich Jets
Try Scorers
Dylan White 5′
Joey Jensen 10′
Isiah KAWANE 15′
Dylan White 22′
Tomas CHESTER 25′
Dylan White 35′
Dylan White 49′
Isiah KAWANE 53′
Zin Zan Martin 57′
Mitch Fogarty 62′
Michael Bell 68′
Conversions
Dylan White 5/11
U18's
Mendi Blackhawks  18 – 38 Ipswich Jets
Try Scorers
Jesse YALLOP 28′
Harley TAYLOR 31′
Braithen KNOX 61′
Haydn ANDREWS 69′
Conversions
Thomas Duffy 1/4