RD 1: Mendi Blackhawks v Ipswich Jets Team Named
Thursday, March 12, 2020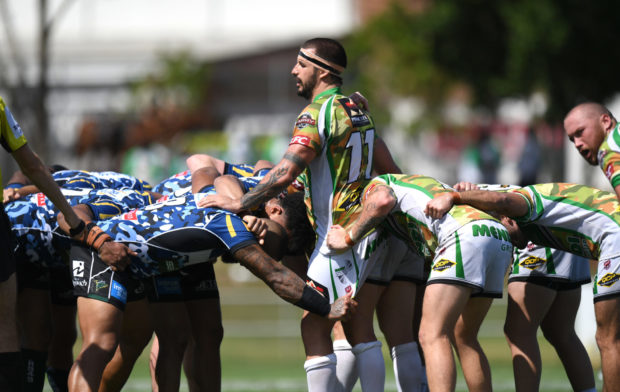 Teams have been named for the 2020 Round 1 clash.  Photo QRL Media
BLACKHAWKS MEDIA
Pre-season is officially over for the Townsville and Districts Mendi Blackhawks as they prepare for take-off this Saturday against the Ipswich Jets at the North Ipswich Reserve.
Coach of the Mendi Blackhawks Aaron Payne said he has been happy with the teams preparations leading into round 1 of the Intrust Super Cup
"It's been a good pre-season this year, especially the good run we have had with the weather, unlike last year," Payne said.
"The players, coaching staff and some of the members I have spoken to, are all really excited about this first game."
"We have two good trials behind us, which I was most happy with our defence."
"But with us and Ipswich, there is always a good competitive rivalry between us, and they can be unpredictable,"
"We have to make sure we are really switched on and prepared for everything."
"Like all the clubs, its hard to program against oppositions because there is limited footage, but from the beginning its important that we get our backyard right before we start worrying about oppositions."
The Mendi Blackhawks have named three players who will debut for the club in Moses Meninga, Tom Hancock and Josh Hoffman, who is yet to be confirmed.
The bseason begins with three on the road to Ipswich, PNG then Tweed Heads.
"We do have a lot of travel in the first three rounds, but there are plenty of positives to take out of that," Payne said.
"Our players and staff have been preparing well for this and are in good physical shape for travel."
"It's also a good opportunity for us to get away as a group for the first time, and play some dry weather footy, as opposed to home where we possibly wouldn't."
"The boys are excited about playing, and so am I,"
"So, I think that's a pretty good indicator."
Intrust Sup Cup – 5.30pm (Live Stream)
1. Carlin Anderson
2. Kalifa Faifai-Loa
3. Bacho Salam
4. Daejarn Asi
5. Murray Taulagi
6. Jaelen Feeney (C)
7. Kyle Laybutt
8. Joe Boyce
9. Josh Chudleigh
22. Sione Lousi
11. Jake Marketo
12. Temone Power
13. Thomas Gilbert
Interchange
14. Krys Freeman
15. Tom Hancock
16. Moses Meninga
17. Kieran Quabba
18. Josh Hoffman
Coach: Aaron Payne
Hastings Deering Colts U20's – 4pm
1. Jacob Kiraz
2. Keanu Wainohu
3. Michael Bell
4. Zinzaan Martin
5. Ty Everett
6. Tomas Chester
7. Aaron Moore
8. Hamilton Taia
9. Curtis Dempsey
10. Tuki Simpkins
11. Griffin Neame
12. Joey Jensen
13. Jack Johnson (C)
Interchange
14. Mitch Fogarty
15. Cameron Bateup
16. Phillip Musumeci
17. Morgan McWhirter
22. Michael O'Brien
Coach: Dave Elliott
Auswide Bank Mal Meninga Cup U18's – 2.30pm
1. Braithan Knox
2. Haydn Andrews
3. Ragarive Wavik
4. Isiah Kawane
5. Jesse Yallop
6. Thomas Duffy
7. Jake Bourke (C)
8. Isaiah Vailalo
9. Ethan Roberts Jnr
10. Adam Mitchell
11. Tyson Chase
12. Mia Pua'avase
13. Luke Jack
Interchange
14. Jacob Taia
15. Te Urewera Potini
16. Abai Chatfield-Mooka
17. Jack Taylor
18. Harley Taylor
Coach: Matthew Bowen
* Teams subject to change