U18's Trial 3 – Teams Named
Wednesday, February 26, 2020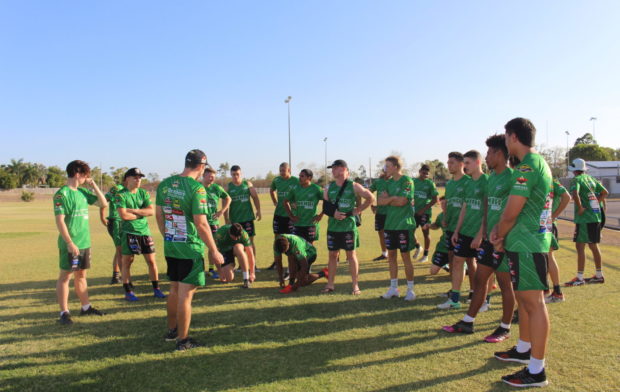 BLACKHAWKS MEDIA
Congratulations to the following players selected to play in the Mendi Blackhawks U18's final trial match of 2020, between the Mendi Blackhawks U18's and a Mendi Blackhawks Invitational Development side.
The game will take place at Jack Manski Oval, 6pm this Saturday immediately following the Townsville Brothers v Cairns Brothers trial match.
Players are reminded they are required to attend a compulsory training session at Jack Manski Oval this Friday 28th February, at 5.15pm.
Mendi Blackhawks – Auswide Bank Mal Meninga Cup U18s
Braithen Knox
Zack Lowe
Clay George
Izzy Kawane
Haydn Andrews
Ty Baira
Harley Taylor
Izzy Vailalo
Jackson O'Grady
Adam Mitchell
Cruz Smith
Ethan Roberts
Jacob Taia
Interchange
Joseph Ross
Tyler Kirkwood
Kyle Jonsson
Jack Taylor
Te Urewera Potini
Coach – Matthew Bowen
* Interchange numbers to be confirmed
Mendi Blackhawks Invitational Development U18s
Cathane Hill
Raheem Rolfe
Xavier Chatfield-Mooka
Dudley Dotoi
Andrew Brunello
Jordan Davies
James Yardley
Josiah Setiu
Maverick Pegoraro
Will Latu
Tom McIntosh
Bing Balanzategui
Will Buchanan
Interchange
Zac Stevenson
Cal McConkey
Afialeti Mone
Ethan Edwards
Matt Schultz
Lachlan Maginis
Malentino Lafoga
Coach – Annan Whittington