Plenty Moore to Come
Tuesday, February 25, 2020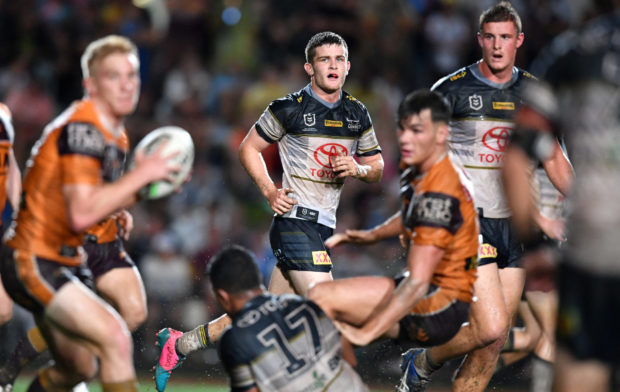 Aaron Moore playing in his first trial match with the North Queensland Cowboys, just hours after playing for the Townsville Mendi Blackhawks U20's.  NRL Photos.
BLACKHAWKS MEDIA
If you thought you were seeing double at Barlow Park on Saturday, think again. Talented North Queensland Cowboys Elite Junior Player Aaron Moore commenced the week thinking he would just play for the for the Mendi Blackhawks Under 20's in their trial match.
Fast forward a few days, and there was Aaron donning his first Cowboys jersey in their NRL trial, a blockbuster game against their biggest rival the Brisbane Broncos.
Moore said it felt surreal that at 2pm he ran out for the Mendi Blackhawks U20's, playing the first half, then 5 hours later he was playing in a Queensland Derby against the Broncos, who had the likes of Origin stars Payne Haas and Anthony Milford in their team.
"Before the game I was really nervous," Moore said.
"I had to sit on the bench for 60 minutes before I got a run, and I was sitting there shaking,"
"At one stage I looked over and couldn't believe that Valentine Holmes was beside me as my teammate, also playing his first trial game for the Cowboys."
"But once I got on the field and got going it felt good."
"I was stocked when Coach Paul Green selected me, it is what every young player growing up wants to do in their career, even a trial match, and now I just to keep playing."
"It was a great experience leading into the season, and I think I held my own out there and did the job the coach asked me to."
"And we got the win, so I was stoked."
"It's probably the sorest I've been after a game, but the best feeling."