Hoffman Strengthens Mendi Blackhawks Squad
Tuesday, February 18, 2020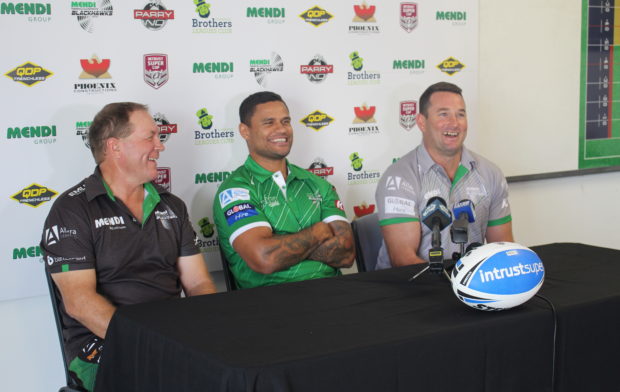 Signed.  Josh Hoffman has signed with the Mendi Blackhawks.  Photo Blackhawks Media
Jorja Brinums – QRL Lead Content Producer
Tue 18 Feb 2020, 02:42 PM
New Zealand international Josh Hoffman has put pen to paper at Townsville Mendi Blackhawks, joining the club for the 2020 Intrust Super Cup season.
The talented 31-year-old, who hails from Mackay, still has "a burning desire" to play NRL, but with a young family, he has started thinking about life after football.
This fuelled his decision to move to north Queensland, closer to his extended family, after a stint at the Parramatta Eels in Sydney.
Hoffman, believing he still has a lot to offer at an NRL level, said ideally, he would love to play for the North Queensland Cowboys, but was definitely happy to ply his trade for the Mendi Blackhawks in the Intrust Super Cup if the opportunity did not arise.
The 189-game NRL veteran, who has played for the Brisbane Broncos, Gold Coast Titans and Eels, played 10 games for the Eels in 2019.
For much of the season, though, he played for Eels feeder club Wentworthville Magpies in the Canterbury Cup.
Hoffman captained Wentworthville in the grand final defeat against Newtown, after the Magpies produced three upset victories to reach the decider.
Mendi Blackhawks Football Operations Manager Adrian Thomson said that success was, in part, due to Hoffman.
"They came from the clouds to get to the grand final from eighth spot… I think it was due to guys like Josh. He averaged about 200 metres per game in those games," Thomson said.
"We hope he follows that on for us. If he does that for us, we're going pretty well.
"There's no doubt this comp has gotten stronger with clubs building. We haven't signed as many as we had on contract last year, but we've signed quality."
Thomson said the club was excited to have Hoffman, who he had kept an eye on for the past few years, and Pat Kaufusi, after losing experienced players Dan Beasley and Zac Santo.
"And maybe Shaun Nona, depending on how he finishes up in France," Thomson added. "We just thought we needed a bit of experience."
Thomson said he knew Hoffman was looking for an "NRL gig" but looked forward to benefiting from his experience.
"It has worked out well," Thomson said.
"Patty and his wife decided they wanted to come back up here and Josh was pretty unlucky not to get an NRL gig because there's a few clubs keeping him on the hook.
"But in the end they decided, because they've got a young family, they really had to get their daughter into school, so made a pretty good decision – on our part – to come up here.
"He's obviously looking to push his case to the Cowboys. They've reportedly got a spot open, so that's helped us.
"But also, having a guy of his experience, with his utility value, a guy that's played 189 first grade games and six tests for New Zealand, and he's a northern local – albeit from Mackay – is good.
"We've got of a few of them in our squad. It will be good for all parties."
Thomson said Hoffman, who was "pretty excited", had also locked in "a bit of an opportunity with his job off the field" with the Clontarf Foundation.
"It's a great foundation that works pretty closely with Aboriginal and Torres Strait Islanders right around the nation," Thomson said.
"There's four schools in Townsville and he'll be based at Thuringowa State High School. They've been holding a spot for the right person and we think he is it."