Mendi Blackhawks Prepare for Final Trial Game of 2020
Monday, February 17, 2020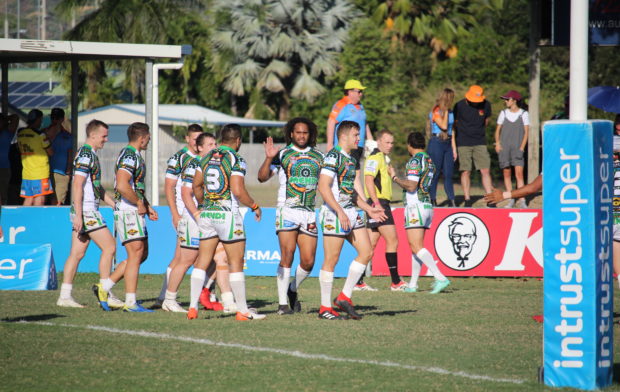 BLACKHAWKS MEDIA
The Townsville Mendi Blackhawks travel to Cairns this weekend for their final trial match for 2020, after a 24-12 win against the Mackay Cutters in Bowen on the weekend.
Head Coach of the Mendi Blackhawks Aaron Payne will finalise his team later in the week, but said he was pleased with the teams first hit out.
"It was a good opportunity for some of our younger guys to play at ISC level," Payne said.
"For some of them it was their first opportunity to play against men, and they took that step up well."
"For me, the best part about the game on the weekend was our defensive effort and the energy they put into it."
"Our three starting middles really stood out,"
"Tom Hancock displayed his experience, and Griffin Neame showed that he is destined for big things."
"Along with Kieran Quabba, who was also strong, I thought those three laid a good platform early for us."
The team will play the Northern Pride on Saturday, as a curtain raiser to the North Queensland Cowboys and Broncos trial match.
"This week we will role out a bit more of an experienced side, which will be fairly close to our round 1 team," Payne said.
"Everyone is really looking forward to playing in front of a large crowd, so it will be a great game."
Coach of the Mendi Blackhawks U20's Dave Elliott said he is also looking at naming a side close to his round 1 team this weekend.
"Although we didn't get the win on the weekend, I thought we showed a lot of resilience," Elliott said.
"We didn't execute some of our defence as we should have, but their attitude was still positive."
"As it's our final trial, we will name a team that will also be fairly close to our round 1 team."
All three Mendi Blackhawk teams will travel to Barlow Park on Saturday.
Games time
U18's West Barlow Park
12.15pm Mendi Blackhawks v Northern Pride
U20's West Barlow Park
2pm Mendi Blackhawks v Northern Pride
ISC Barlow Park
4.15pm Mendi Blackhawks v Northern Pride