Mendi Blackhawks Back in Training for Season 2020
Thursday, December 5, 2019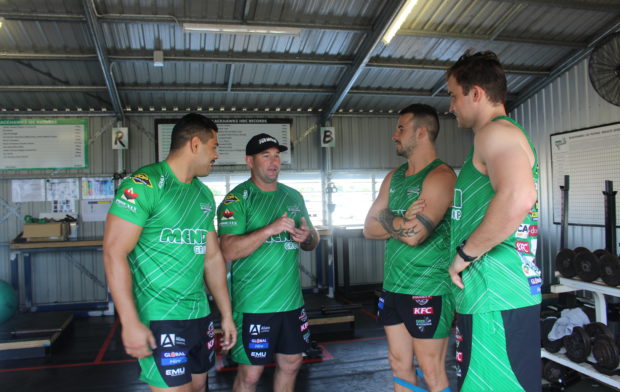 Preparations for season 2020 is underway for the Mendi Blackhawks.  Photo Blackhawks Media
BLACKHAWKS MEDIA
Training has commenced for season 2020 for the Mendi Blackhawks at Jack Manski Oval, and Coach of the Mendi Blackhawks Aaron Payne said he is pleased with how the team have returned.
"The players have come back in good shape, which means a lot for this time of the year," Payne said.
"We gave them a bit longer off and was hoping they would buy into that, and they have which means we don't have to play catch-up to get them back into shape and can just start taking steps forward straight away."
Payne said his teams focus this pre-season is working on core skills and physicality.
"Pre-season is a lot different to in-season, where you don't have the game to look forward to each week,"
"It's a good opportunity for us to work on our core skills and get the basics down pat."
"Like everyone, we want to be fitter, faster and stronger,"
"It can also be strenuous, but it's important that we still have fun and enjoy each other's company."
"Our new players have slotted in really well, which is really pleasing as a coach, and we have still got a few to return."
"The boys have certainly been ticking off some boxes that we wanted to leading into Christmas."
Temone Power and Jaelen Feeney have also returned after completing one month training with the North Queensland Cowboys.
"To have those two guys back around the group is a real positive,"
"They are both experienced players and will bring back to the group the confidence they received from being at the Cowboys."
The Mendi Blackhawks will break for two weeks over the Christmas period, and Payne said he is confident the team will return in the same good shape.
"The boys will use this break to enjoy some time off with their families," Payne said.
"I have got every confidence in them that they will return in the same good shape as we started, so that will springboard us into doing more structured team activities in January."
"And hopefully by then, we should have most players back and can really get moving on our season goals."
"And we haven't had any interference with weather yet either, other then being hot, so its been good."