Legend Q&A: Aaron Payne
Thursday, December 5, 2019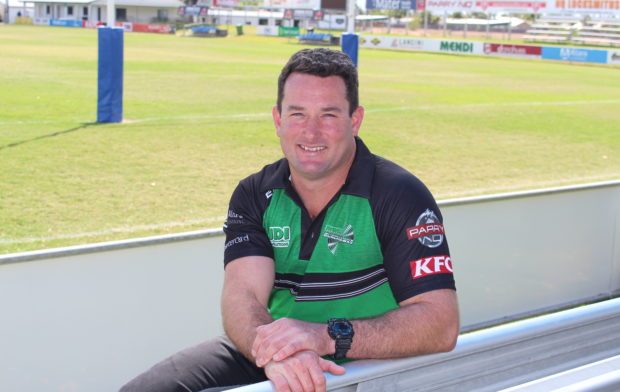 What an awesome career it has been for our awesome Head Coach Aaron Payne. Photo Blackhawks Media
Thank-you to the NRL for this great article!
Jason Wolfgram, NRL.com Reporter, Wed 4 Dec 2019
Born and bred in Townsville, Aaron Payne was the quintessential Cowboy.
After breaking into the top grade in 2002, the crafty hooker soon cemented his spot and went on to play a leading role in getting the Cowboys to their first ever grand final in 2005.
He is now making a name for himself as a coach with the Townsville Mendi Blackhawks in the Intrust Super Cup.
Aaron Payne
How old were you when rugby league caught your attention?
Dad played the game and when he finished playing it and I was a young fella, he used to watch it, so naturally I watched it. Right from when I was old enough to work out what was going on, I was a league fan. I wanted to play from when I was six years old but Dad wouldn't let me start playing until I was 10. I'm glad now he didn't. I played a lot of other sports which I think certainly helped me as I was playing a whole range of different sports, every sport taught me something different, which helped me later in life.
Where did you play your junior footy?
I started out when I was 10 playing for Centrals in Townsville. We didn't have enough for a team and when I was in 14's I switched to Brothers and we won three premierships. Then when I was 17, we had enough for a team and I went back to Centrals and I went on to play A grade there. I went straight through to Queensland Cup and was signed by the Cowboys as a 17-year-old. I was a bit of a late bloomer, it took me a while to get a lot of my confidence.
In 2002, you started your first-grade career with the Cowboys. What are your memories of your debut game against the Dragons?
I still remember it pretty vividly. There's a lot of my career that's a bit of a blur, but it's one that sticks out pretty well. There were a lot of guys I really looked up to and I thought at the time it was a bit surreal and something I was very proud of, given that my debut was at home and playing in front of so many family and friends. I certainly thought as a player, I didn't belong there. It took quite a few seasons until I really believed I was up to that grade and worthy of it.
How long do you think it took before you actually felt like you were part of the team?
I made my debut in 2002 and only played five games. And then the following season in 2003 I only played four or five games. By 2004 I started the season really well and cemented my spot in the side. That's when I started to believe that I was good enough to play first grade and I was well and truly up to it.
In 2005 you played in your very first grand final for the Cowboys. What was it like to play in the big one?
It was unbelievable, it was a childhood dream. For it to become a reality was something I'll never forget. Being part of a team that turned the club around from being easybeats into a genuine force in the competition was a huge achievement.
Can you describe the feeling of losing the grand final to the Tigers?
Gut wrenching. It still is. I still haven't watched the game back. I've watched snippets of it but I just haven't brought myself to do it. I was pretty young then and stuff like that you take for granted, whether it's at NRL level, local league level, any level of sport, and it's not until you get older that you really understand that opportunities like that don't come around every day of the week.
In 2006 and 2008 you were named Cowboys Player of the Year. You also picked up Players' Player and Club Person of the Year. What did it mean to you to be recognised by the club and your peers in that way?
It was good to get acknowledged for my contribution to the group. But at the same time, both years, we were close to picking up the wooden spoon as well. Whilst I was proud of my own personal achievements, from a team point of view we didn't perform so I wasn't getting too carried away with it all.
You went about your business in the shadows of Johnathan Thurston and Matt Bowen but Gorden Tallis once described you as the glue that held the Cowboys together. How did you see your role?
I think that was probably a fair statement from Gordie. I didn't get the accolades that JT and Matty Bowen got but that didn't bother me. I knew my role within the group and I certainly loved playing with them. I guess we just had a bit of a sixth sense with each other, we'd pre-empt when someone was going to do something because we played together for so long. We didn't even really have to say too much. I knew if I ran from dummy half that one would be on one side and one would be on the other side supporting me. To have played with two guys of their stature is certainly something I'm proud of and to be able to tell my kids about down the track.
Obviously the combinations just clicked on field but it wouldn't have come without the hard work behind it right?
Yeah, and I certainly wasn't the best player. There were a fair few players that were a lot better than what I was. It was probably just the fact that I wanted it more than other guys and was prepared to make a lot of sacrifices and work harder than other people. It's probably a good story for kids. A lot of kids these days want a contract when they're 15 from an NRL club, and if they don't get one, they think they've missed out. I never got my first NRL contract until I finished school. I think that's a good example of not being the most talented, but if you want to work harder than others then good things will happen.
You played your 200th NRL game in 2012. Do you remember who you played back then?
It was against the Melbourne Storm and we got beaten but it was something I was really proud of. It was a goal that I set out to achieve. I loved the Cowboys, loved the club and our supporters. I wanted to become a life member there and getting to 200 games was obviously the pre-requisite.
You said it was a goal, but did you ever think that you wouldn't make it to 200 games?
Certainly early on in my career I didn't think I'd play one game to be honest. I was pretty lucky with injuries. I only had one season-ending injury when I tore my pec in 2009 but nothing that took away my ability to play a lot of games during the season.
You got a shot at rep footy in the NRL All Stars side in 2012 when Cameron Smith was injured. How much of a buzz was that?
It's something I'm proud of. Probably the key thing to mention, it wasn't just Cameron Smith, there was probably about eight other hookers that were all out injured. But that's alright, I'll take the opportunity when I get it. It was a great week. I got coached by Wayne Bennett, and that was an experience in itself.
What were your first impressions of Wayne?
He was a pretty quiet and reserved guy. He also had a genuine interest in you when he spoke to you. He wasn't engaged in anybody else's conversation, he was engaged in conversation with you. That's probably why he's such a good coach.
Speaking of Cameron Smith, how frustrating was it being stuck behind such a great player when it came to getting a shot at Origin?
Every kid wants to play Origin and I didn't obviously get the opportunity because of Cameron. I was on standby once when he was in some doubt but he came through. It's something that I would love to have played, but to miss out because of someone with his ability and resilience, I can live with that. Despite the fact I didn't play Origin, I'm still proud of my career and what I contributed to the Cowboys, that's probably more important to me.
Can you describe the emotion of playing in your last game in 2012 for the Cowboys?
My last game I actually limped off the field so it probably didn't go to script. It was in a semi-final against the Broncos and I did my knee, so that was my last game at home, but we won that. I retired at 29 and it was pretty early but I got to the point where I didn't really have the drive and commitment that was needed at that level. I was ready to move onto the next stage of my life.
You turned your hand to coaching in 2016-17 with the Cowboys Under 20's and you made it to the finals both years. Was coaching something you always wanted to do?
I didn't know if coaching was for me or not. I was asked if I was interested and I said, 'Oh yeah, I'll have a go and see if I enjoy it or not'. I really enjoyed it. I thought I knew a lot as a player but once you coach, you learn a hell of a lot more about the game than what you do when you're playing. I had a year off once the Under 20's competition finished [in 2017] and that year off was really tough. I felt like I was missing something in my life and I really missed that week-to-week satisfaction you get with coaching a side and that special bond you get with the players. I was fortunate enough to get the job at the Townsville Blackhawks and I'm really enjoying my time here.
Is coaching the Cowboys' NRL side on the bucket list?
I certainly would love to coach a first-grade side and particularly the Cowboys down the track. But once you get to the top, there's only one way to go and that's down. It's a pretty volatile industry. I'm still learning a lot as a coach week-to-week, year-to-year. I'd like to think I'm doing my apprenticeship at the moment but I'm certainly not ready for that yet. I'd like to learn more from some good coaches before I venture into a first-grade spot.