Tom Hancock Embraces New Challenge with Townsville Blackhawks
Monday, December 2, 2019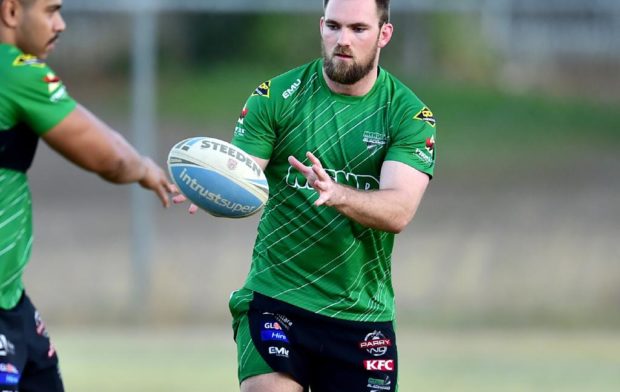 Tom Hancock has joining the Townsville Blackhawks for the upcoming Queensland Cup season. Picture: Alix Sweeney
TRENT SLATTER, Townsville Bulletin, November 30, 2019
TOM Hancock's career away from rugby league brought him to Townsville, but the new Blackhawks backrower is adamant he still has plenty to offer on the field at Queensland Cup level.
Hancock co-captained the Northern Pride last season before relocating down the Bruce Highway through his job as a criminal lawyer at the Office of the Director of Public Prosecutions.
The 27-year-old wasn't ready to hang up his playing boots after an outstanding season with the Pride which saw him scoop the club's awards night so he reached out to the Blackhawks.
Hancock has more than 100 Q-Cup games under his belt and adds further depth to Townsville's already impressive backrow which includes the likes of former Dragons forward Jake Marketo and Bowen product Temone Power, who has trained with the Cowboys during the preseason.
Hancock averaged 71 metres and 32 tackles per game last season despite the Pride posting just five wins and the tireless edge forward felt he could hit the ground running with the Blackhawks.
I sort of looked at it (retirement), but I absolutely had intentions to keep playing," Hancock said.
"I knew I didn't want to play local league so I knew if I was going to play it was going to be to try and play Cup.
"The Northern Pride as a whole had a bit of a disaster of a year, but I was pretty happy personally with how I played through the course of last season. I think I can still play – for sure."
Hancock admitted it was a strange feeling to join the Pride's arch rivals after their first preseason training sessions this week, but he was also excited about his new team's potential.
The Blackhawks went within one game of the grand final last season and they've had a strong focus on retention, with the bulk of the squad set to wear the black and green jersey again in 2020.
"They had a really good season last year and I can tell just from the first few days at training there's plenty of good players kicking about," Hancock said.
"It is exciting that there's a genuine chance for us to have a good year."
Juggling his football commitments with his career as a lawyer can be challenging, but Hancock said the Blackhawks had already found a way for him to get the best from both worlds.
"On Thursday I pretty much missed the gym session because of work, but then I just jumped onto the field and knocked the gym over at the end," Hancock said.
"They're all pretty aware that work comes first to some extent … 'Payney' (Blackhawks coach Aaron Payne) said they're pretty happy for that to be the case if it happens here and there.
"It's easy to manage as long as the club's on board with it and work's really good as well. They do their best to try and make it fit in with footy."