Hard Work Pays Off For Blackhawks Forward Temone Power With Preseason Cowboys Call-up
Friday, November 15, 2019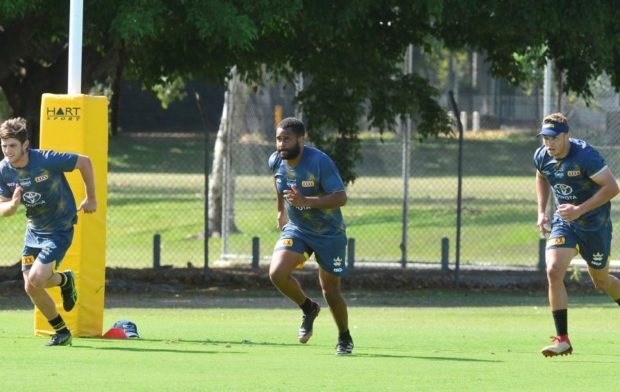 Blackhawks forward Temone Power (centre) puts in the hard yards during Cowboys pre-season at Townsville Sports Reserve. Picture: Matthew Elkerton
TRENT SLATTER, Townsville Bulletin, November 14, 2019
THE Mendi Blackhawks won't be back at preseason training for a few more weeks, but backrower Temone Power is already sweating it out for the biggest opportunity of his rugby league career.
Power and Blackhawks team mates Jaelen Feeney and Bacho Salam were hand-picked by Cowboys coach Paul Green to train with the NRL squad after impressing at Queensland Cup level.
Power was in career-best form last season as he played all 25 matches for the Blackhawks in their run to the preliminary final while scoring 10 tries and averaging 76 metres per game.
His chance with the Cowboys has been a long time coming after the Bowen Seagulls junior first caught their attention while playing A-grade for the Burdekin Roosters in 2015.
Power was drafted into the Cowboys under-20s squad before joining the Blackhawks the following season when a torn ACL forced him to put his footballing ambitions on hold.
The dependable forward has built himself back up through the Mendi Blackhawks and the now 24-year-old said it was a special feeling to be out on the training field with the Cowboys.
"Sometimes I look and just get excited because I've been dreaming of it since I was a kid," Power said.
"Living in Bowen they were the closest team so I always supported them.
"It meant a lot to just get an opportunity to go up and train with them and learn off the guys and all the trainers there. It's a humbling experience."
Mendi Blackhawks coach Aaron Payne has been an ardent supporter of Power's NRL potential after his breakout Q-Cup season which saw him named the club's forward of the year and players' player.
Power also earned Queensland Residents honours for the first time and was channelling that confidence as he looks to show the Cowboys just what he can do.
"I've definitely taken a bit more professional focus and I think I had to. You wouldn't want to come into an NRL system unfit," Power said.
"I stayed my same playing weight this whole off-season and it makes your preseason a lot better than when you're trying to catch up and you've got to lose some weight.
"I'll just keep training as hard as I can while I have the opportunity."
Power has been sporting a fresh look for his preseason with the Cowboys after shaving off his trademark dreadlocks – a decision he hoped would make the step up a little bit easier.
"I had to cut it off, I don't want to be running in the Townsville heat with that much hair," he quipped.