Blackhawks Centre Bacho Salam Rewarded for Perseverence with Cowboys Opportunity
Wednesday, November 6, 2019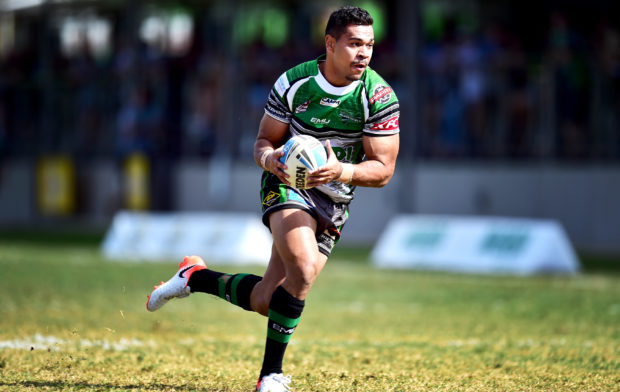 Bacho Salam has been rewarded with pre-season training with the Cowboys. Photo Alix Sweeney
MATTHEW ELKERTON, Townsville Bulletin, November 2, 2019
TWELVE months ago Bacho Salam was sitting at home unsure if he would ever get back on the field.
A Cowboys prospect from a young age, the Mossman product was in rugby league wilderness after getting hit by a year-long drug ban by the Australian Sports Anti-Doping Agency.
While it would have been easy for any man to get down, Salam refused to give up hope. And it is that hope that has landed the Blackhawks centre in the sights of the NRL club he has always adored.
Salam will get the opportunity to join the Cowboys first grade squad later this pre-season as one of three Blackhawks players hand-picked for the opportunity by Cowboys coach Paul Green.
Teammates Temone Power and Jaelen Feeney will start pre-season with the Cowboys first grade squad on Monday, while the club has given Salam time to finish off the year in his job as a teacher's aide before joining the top squad in Christmas.
For Salam, the call from the Cowboys came as a moment of relief. And a testament to the fighting spirit he had displayed all the way through his suspension and comeback season in the Queensland Cup.
And the first person he called was the woman who had stood by his side through it all, his mother Roberta.
"I worked hard to get where I am and it all comes down to family support," he said.
"I called my mum straight away, she was happy for me. I was still in shock but mum just told me "you have worked hard to get where you are, I don't want you to look back. I want you to keep moving forward".
"It made me reflect on my year that I had. It was a comeback year and I thought I had a pretty good season. I just want to keep going up from here."
The chance to train with the Cowboys is a big opportunity for the former under-20s player, and after the club let go of a host of backline players, there is a real chance Salam could force his way into the top 30.
But he knows he will have to work hard from the outset.
"I see this as a real opportunity," Salam said. "I am going to have to work hard, whatever I have to do. But (getting into first grade), that is a goal for myself. I am going to train my butt off, I am just going to keep working hard."
Cowboys football programs manager Glenn Hall said he was proud the club could offer this opportunity to selected players in their feeder clubs, opening a true pathway from the regions to the top grade.
"There is an opportunity to put your best foot forward and showcase your abilities and just really put your hand up," Hall said.
"There are still spots open and available in the NRL squad this year. These guys are here and in the view of Paul Green and coaching staff and I am sure if they put the best foot forward, they put themselves in contention.
"They are all capable to be able to step up to first grade and if they perform well and that is a direction they want to go then there is a chance. It could really be an audition."
The Cowboys return to pre-season on Monday ahead of a blockbuster opening round Queensland Derby against Brisbane Broncos at the North Queensland Stadium on March 13.