2019 QRL Rookie of the Year – Thomas Gilbert
Thursday, October 3, 2019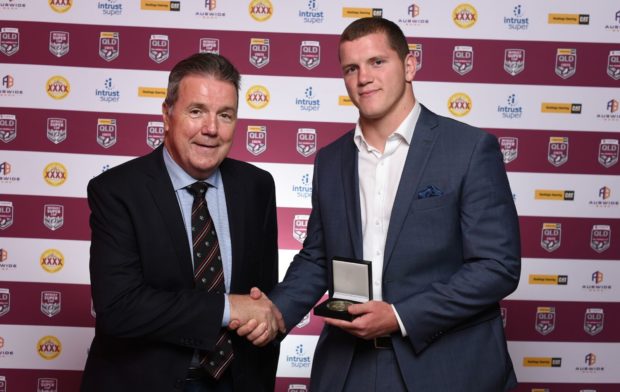 Pedro Gallagher Intrust Super Cup Rookie of the Year – Presented by the Carbine Club: Thomas Gilbert – Mendi Blackhawks. Photo QRL Media
JOEL GOULD – QRL Media
Barnstorming Townsville Blackhawks forward Tom Gilbert has outlined his desire to mould his game on the career of Cowboys and Maroons legend Matt Scott as he targets taking the next step up to the NRL in 2020.
Last Friday night at the QRL Awards Dinner, the 19-year-old was presented by the Carbine Club with the Pedro Gallagher Intrust Super Cup rookie of the year award for his breakout season, which also saw him represent the Queensland Under 20 side.
Gilbert played 24 games for the Townsville Blackhawks this year where he averaged 30 tackles per match and 139 running metres.
The Cowboys-contracted Gilbert has watched closely the career of Scott and trained alongside him. The 2015 premiership winner has recently announced his retirement, but his legacy will not be forgotten by Gilbert.
"I have tried to empower within myself some of the attitudes and morals Matt has as a player and a person," Gilbert said.
"I still can't believe some of the injuries he has played through and what he has done for the Cowboys. He and the club are rightly proud of what he has done.
"That is something I want to be able to do one day, to be resilient enough to play through injuries that most people wouldn't be able to play through."
Scott had a mild stroke in August, but is on his way to a full bill of health.
"He definitely doesn't deserve what has happened to him, but in typical 'Thumper' fashion he has fought on and will make a full recovery which is the most comforting thing," Gilbert said.
"The career he had is something I dream of having because he will go down as one of the greatest forwards and Queenslanders of all time. If I can have half the career he did I will be happy."
It is that word "resilience", which Scott epitomised, that Gilbert kept coming back to, particularly in the light of the Cowboys missing the finals for the past two seasons.
"We are a time at the club where we are not where we want to be, so it is a good time for me and other players at the club to be resilient," Gilbert said.
"I think Matt has done that with his individual performances through injury so it is a good time for me to follow suit."
Gilbert now has his eyes on the prize of playing NRL with the Cowboys next year but recognised the need to make further improvements.
"That is my dream," he said.
"When I was younger, I said to myself 'this is what I want to do' and I am very fortunate to have the opportunity to be at a club like the Cowboys where, regardless of whether I am playing, I am very happy.
"Hopefully the opportunity comes, but I have to earn my stripes with a lot of hard work.
"I have still got to find something in my game that makes me a little bit unpredictable, whether that is an offload or ball playing ability generally. I need to knuckle down and find something that I am really good at and really utilise it to make teams second guess me."
Gilbert said he was constantly learning under the coaching of Cowboys mentor Paul Green.
"He is definitely very smart and his coaching abilities are second to none which is reflected in the success he has had," Gilbert said.
"What I like most is the honesty he has with me. He will tell me what I need to work on and he will tell me to my face.
"That is something I appreciate because it is not always easy to look someone in the eye and say 'I need you to do this'. He can have the hard conversation and be a good mentor away from footy."
Gilbert was stoked about winning the rookie of the year award and gave credit to his Townsville Blackhawks and Cowboys team mates.
"I am very humbled," he said.
"I am also very grateful to be working with a calibre of players who challenge me and make me a better player and person week-in and week-out."