Wynnum Book First Spot in the Grand Final
Saturday, September 21, 2019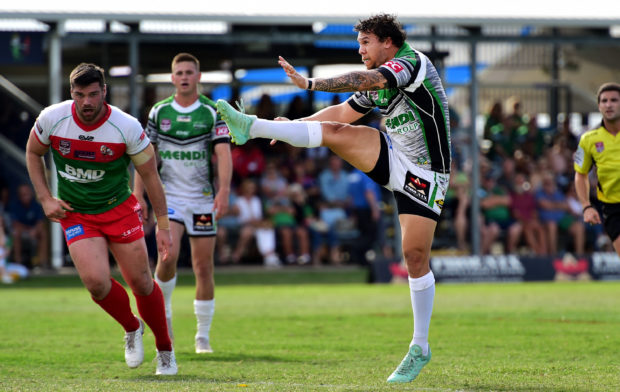 BLACKHAWKS MEDIA
The season ended for the Townsville Mendi Blackhawks after going down to Wynnum 26-14 in the preliminary final.
A large crowd turned out to watch the Mendi Blackhawks, but ultimately they couldn't get their team over the line.
Wynnum started the game running into a strong wind, however got on the front foot early through a try to Sam Scarlett in the third minute,
The Seagulls continued to dominate possession and field position with Jordan Drew held up over the line in the 15th minute after a promising raid.
Eventually the weight of possession took its toll on the Mendi Blackhawks in the 22nd minute, when a Pat Templeton kick took a deflection for him to regather and send to winger Edward Burns who planted the ball down despite protests from the Blackhawks that he was outside field play before scoring.
Not long after in the 27th minute Templeton continued to torment the Blackhawks by intercepting a pass to streak away under the posts, his first conversion of the day had the Baysiders up 14-0.
Wynnum continued to press before halftime, resulting in Kalifa FaiFai-Loa being sin binned in the last play of the half.
The penalty attempt from Templeton hit the upright, leaving Wynnum up by 14 points at the break.
The Mendi Blackhawks commenced the second half with a fierce determination to rectify their first half problems, and were rewarded early when Bacho Salam scored from a deft kick from Shaun Nona, who added the extras to reduce the deficit to only 8 points.
Despite creating some opportunities, the Blackhawks could not take advantage and were further on the backfoot when Jordan Drew crossed in the 55th minute, the conversion from Templeton took the margin out to 14 once again.
In the 65th minute a typical charge from dummy half by Josh Chudleigh saw him over the line.
The conversion from Nona had the score 20-12 and the crowd had their voice back.
A penalty from Nona three minutes later further reduced the lead and the Blackhawks faithful were out of their seats.
A one on one strip from Murray Taulagi saw him set set sail on an 80 metre dash only to see the desperate cover defence of Wynnum force him over the touchline only inches from the try line. It ended up being the last chance of the season for the Mendi Blackhawks, as Wynnum fullback Edene Gebbie scoring in  the 79th minute to seal a memorable victory for the visitors.
Mendi Blackhawks coach Aaron Payne rued his teams missed opportunities.
"We created plenty of  opportunities, and unfortunately we did't take them," Payne said.
"In typical Dan Beasley fashion he was rock solid, and it was disappointing for him to go out that way,"
"He's certainly left this place a better place and left a legacy that will last forever."
"We can definitely take a lot of positives out of this season and will come back and re-group and start again next year."