2019 Mendi Blackhawks Presentation Night Award Winners
Friday, September 13, 2019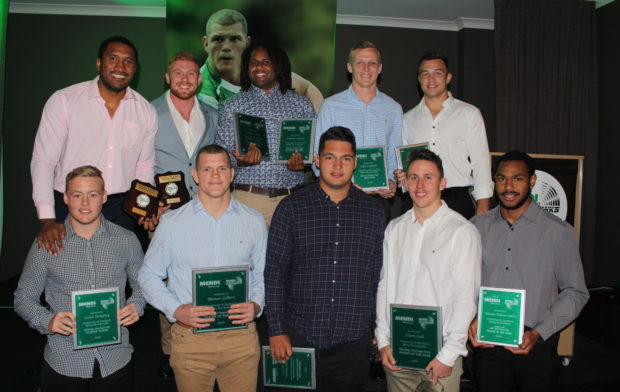 Congratulations to all of the 2019 Mendi Blackhawks award winners. Photo Blackhawks Media
BLACKHAWKS MEDIA
North Queensland Cowboys allocated player Thomas Gilbert has taken out the "2019 Mendi Blackhawks Player of the Year".
Coach of the Mendi Blackhawks Aaron Payne has described the young forward as being consistent and reliable all season, winning the award based on the coach's 3,2,1 points system awarded after each regular game.
"For a young guy, Tom plays big minutes in a tough position in the middle of the field and gets through a lot of work," Payne said.
"He's consistent, reliable and has had a real break-out year at ISC level."
"Thomas is a real workhorse, always competes, and really deserves this award."
Not far on points behind Gilbert was Josh Chudleigh and Temone Power, both players who have had outstanding years.
"Josh and Temone are a big part of the reason why we have had a successful year so far," Payne said.
"They are also both consistent and very important parts of our side,"
"Coming back from a serious injury with his knee reconstruction, Josh has really gained confidence again defensively and tightens up our middle."
"Temone is a guy that all of his teammates love playing alongside with."
Temone Power also received two awards "Forward of the Year" and "Players Player".
"Temone does a lot of 1%ers that on the outside doesn't go as noticed, but certainly doesn't go unnoticed by his teammates."
"Whether it's kick pressure, supporting roles or chasing someone who has made a break, Temone is always the one doing it and that's why his teammates loved playing with him so much and ultimately receiving the Players Player award."
Back of the Year Award was won by the Kyle Laybutt who Coach Aaron Payne said has had a fantastic year.
"Kyle has been really beneficial to us this year, the fact that he can play so many different position," Payne said.
"He's given us some flexibility and has played equally as well in the halves as he has in the centres,"
"It's really unfortunate the injury that he copped but we are still hopeful that if we play deep into the finals he will still be a part of it."
Payne also paid special mentions of other backs unlucky not to get the award who have had really good seasons, including Shaun Nona and Jaelen Feeney.
In the Mendi Blackhawks U20's Adam Cook, was named as the "2019 Player of the Year".
Coach of the Mendi Blackhawks U20's Dave Elliott said Cook has taken his game to another level this year, which has come off the back of his ultra – competitive nature and an incredible amount of hard work and perseverance.
"In an era whereby players specialise very early, Adam was able to show his unique ability as a footballer to seamlessly move from the halves to fullback late in the season."
"As his coach, it exemplified not only his confidence but more importantly his selflessness and team first attitude."
Adam is also leading points scorer in the Hastings Deering Colts competition, scoring just over 200 points, 20 points clear of 2nd place.
Award Winners
2019 ISC Mendi Player of the Year – Thomas Gilbert
2019 ISC Back of the Year – Kyle Laybutt
2019 ISC Forward of the Year – Temone Power
2019 ISC Players Player of the Year – Temone Power
2019 U20 Player of the Year – Adam Cook
2019 U20 Back of the Year – Michael Bell
2019 U20 Forward of the Year – Wiremu Greig
2019 U20 Players Player of the Year – Curtis Dempsey
2019 U18 Player of the Year – Hamiso Tabuai
2019 Cr Russ Cook Community Award – Krys Freeman & Kalifa FaiFai-Loa