French Connection: Blackhawk Eyes Queensland Cup Premiership
Friday, August 30, 2019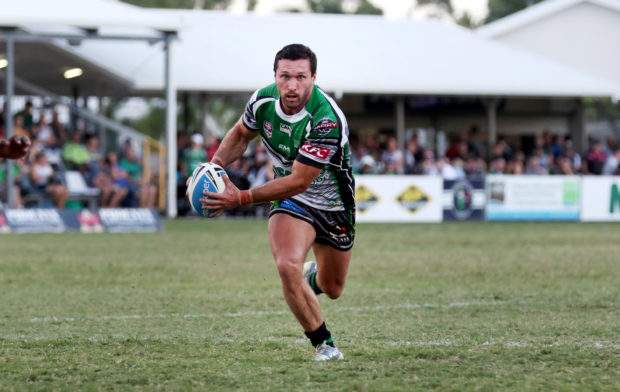 Mendi Blackhawk Zac Santo believes his side can claim a maiden Queensland Cup premiership after revealing he has signed a deal to play in France at season's end. Photo Alix Sweeney
TRENT SLATTER, Townsville Bulletin – August 28, 2019
ZAC Santo says the Townsville Blackhawks have the belief they can claim a maiden Queensland Cup premiership this season after revealing he has signed a deal to play in France at season's end.
The Charters Towers product was the man of the moment last weekend as the Mendi Blackhawks brought up their ninth win from 10 matches with a last-ditch 22-18 victory over Wynnum Manly at Jack Manski Oval.
Santo scored in the corner with just three minutes left on the clock as the Blackhawks overcame the second-placed Seagulls despite playing the entire second half with just 12 men after a send off.
The memorable win keeps the fourth-placed Blackhawks in the hunt for a top-two finish and a home semi-final should other results fall their way when they take on the Easts Tigers in Brisbane on Saturday.
The Blackhawks were humbled by minor premiers Sunshine Coast 40-18 a fortnight ago, but Santo felt the determination they showed against Wynnum Manly proved they were a finals threat heading into the last round of the regular season.
"That win really showed how well and how far we've come," Santo said.
"To have 12 out there for what felt like the whole game and just the resolve and the grit we showed to win that in the end — that was some finish.
"As soon as I scored it I just started yelling when I saw Temone (Power, who threw the last pass) running over to me. It felt like I was just yelling in his face, but it just felt so good.
"We never doubted ourselves. Every time they scored we never really felt like they were on top of us and we thought we could get the win.
"We lost last week (against Sunshine Coast), but we've won nine out of 10 in the last few weeks so we're building and we think we've got a real good chance to give this a crack."
Santo is set to join the Limoux Grizzles in France's Elite One Championship after the Q-Cup season which is the same competition Blackhawks teammate Daniel Beasley played in last year with the Albi Tigers.
The 26-year-old said he considered switching to the Super League when he was younger and he was excited for the experience of playing rugby league overseas before a possible Blackhawks return next season.
"I'm just keen to go overseas and have a new experience and live life over there for a bit," Santo said.
"The season finishes in June so I could end up anywhere after that. I don't really have anything planned as of yet."