U20's Secure Top 4 Spot
Tuesday, August 20, 2019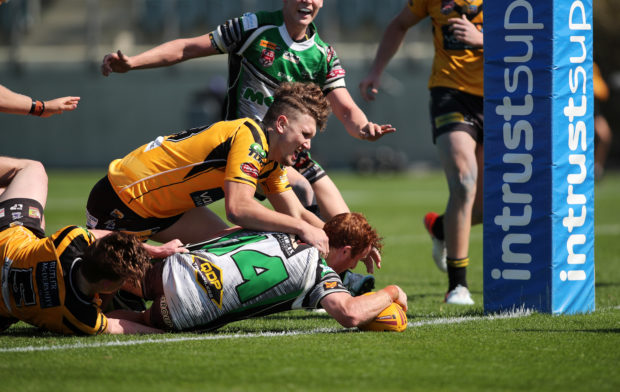 Mitch Fogarty scores for the Mendi Blackhawks U20's in his teams win on the weekend. Photo QRL Media
BLACKHAWKS MEDIA
The Mendi Blackhawks  U20's have secured a top 4 finish on the Hastings Deering Colts ladder with a 28-10 win over the Sunshine Coast Falcons on Sunday.
The team currently sit in third position on the HDC ladder with 35 points.
Burleigh and Wynnum are both on top of the ladder with 37 points above, and the Falcons take 4th spot on 30 points.
With full-back Daejarn Asi receiving a last minute call up to ISC, a quick reshuffle of the team was in order.
Half-back Adam Cook was sent back to full-back and 18th man Mitch Fogarty was brought on to the bench.
Fogarty went on to score two tries.
"The team responded well to the last minutes changes," Coach of the Mendi Blackhawks U20's Dave Elliott said.
"The Falcons were always going to be a tough opposition and we knew we needed to be at our best."
"Games like this helps bring out your best footy for this crucial time of the year."
"It's good to know that we have some other options and another full-back back up in Adam Cook, he did a really good job at the back."
The team are at back at home this Saturday for their last home game of the regular season against Wynnum.