RD 19: Hunters Return to Jack Manski Oval
Friday, August 2, 2019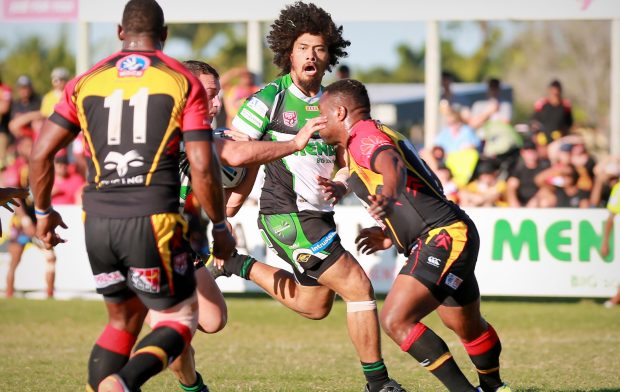 The last time the PNG Hunters played at Jack Manski Oval was in 2017. Photo Alix Sweeney
BLACKHAWKS MEDIA
The PNG Hunters return to Jack Manksi Oval this Saturday for round 19 of the Intrust Super Cup.
The Hunters haven't played in Townsville since 2017, and the Mendi Blackhawks are looking forward to hosting the team and their large following of supporters they bring.
"It's always a physical game against the Hunters," Coach of the Mendi Blackhawks Aaron Payne said.
"We have to make sure we are ready to roll our sleeves up and match their physicality both in attack and defense."
Payne said he will finalise his team later in the week, which may include Townsville local Cade Maloney, who has been out for the year with bone bruising.
"We still have to wait and see how a couple of the guys pull up after training," Payne said.
"It will be really good to name Cade after being out for so long,"
"He's had to deal with so much mentally with not playing for so long, there will be finally some light at the end of the tunnel for him."
"From the games I watched of him last year, I think he's a fantastic young talent that will add a lot to us, and I know all the players are looking forward to his return as well."
Kyle Laybutt, who represented Papua New Guinea during the Oceania Cup Pacific Test in June this year, said he is looking forward to playing the Hunters.
"It was an unreal experience representing PNG and great to play in front of family in PNG," Laybutt said.
"My grandmother is from Madang, and moved to Australia when she was 8, which made me eligible to play to play for PNG."
"I've been over there a few times now, and played for and against them, and they are really passionate and wear their jersey with pride."
"This weekend is  going to be awesome, it's always a tough and close game."
The Mendi Blackhawks U20's kick off first this Saturday, against the Western Mustangs at 2.20pm.
Dave Elliott and his team are hoping to bounce back after the Mustangs had a 1 point win when the teams first met back in round 9.
Currently the Mendi Blackhawks U20's are currently sitting in third position on the ladder.
Saturday, August 3, Jack Manski Oval
ISC Team List
4pm
1. Nathan Traill
2. Zac Santo
3. Bacho Salam
4. Kyle Laybutt
5. Kalifa FaiFai-Loa
6. Jaelen Feeney
7. Shaun Nona (c)
8. Joe Boyce
9. Josh Chudleigh
10. Corey Jensen
11. Jake Marketo
12. Temone Power
13. Thomas Gilbert
Interchange
15. Kieran Quabba
17. Cade Maloney
19. Krys Freeman
22. Sione Lousi
18. Daniel Beasley
Coach:  Aaron Payne
U20's Team List
2.20pm
1. Hamiso Tabuai-Fidow
2. Tom McCagh
3. Daejarn Asi
4. Michael Bell
5. ZinZaan Martin
6. Brodie Chaffey
7. Adam Cook
8. Wiremu Greig
9. Curtis Dempsey
10. Jack Althaus
11. Nathan Barrett (c)
12. Ben Condon
13. Jack Johnson
Interchange
14. Mitch Fogarty
15. Riley Price
16. Griffin Neame
17. Enemarki Shibasaki
Coach: Dave Elliott
*Team subject to change