Mendi Blackhawks Prove Too Strong For Bears in Ingham
Monday, July 22, 2019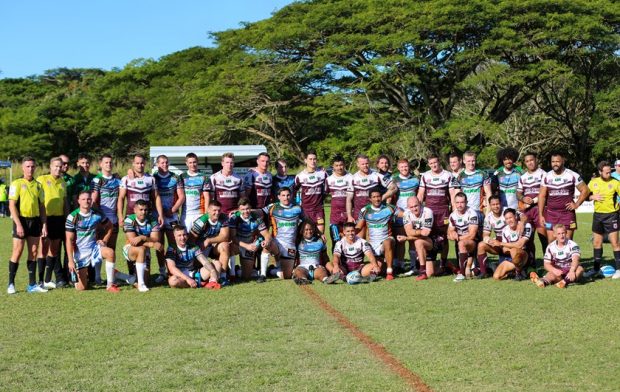 Mendi Blackhawks def Burleigh Bears in Ingham for "Country Week". Photo QRL Media
Jorja Brinums, QRL lead content producer
Sun 21 Jul 2019, 04:37 PM
The Townsville Mendi Blackhawks and Burleigh Bears battled it out for the two points at the home of the Herbert Rivers Crushers in Ingham this afternoon.
The Intrust Super Cup 'Get in the Game' Country Week clash saw the Mendi Blackhawks run away 22-10 winners in front of a large and vocal crowd.
The win was extra special for Mendi Blackhawks gun Kieran Quabba, who was born and bred in the sugar cane town.
"I grew up playing on this oval, right here," Quabba said.
"It's just awesome. The crowd that came out here today. It was awesome for us to get a win. I'm loving it.
"It was a big grind. We knew Burleigh was going to bring it. They have a massive pack, so particularly for us through the core, it was a big game for us.
"I couldn't be more happy with the boys. Couldn't be more happy with the crowd and what Herbert River did today."
The Mendi Blackhawks' Kalifa Faifai Loa was first to score in the game, in the 16th minute, followed by Josh Chudleigh eight minutes later.
The Bears' Sami Sauiluma scored four minutes before half time, and the teams went to the break with the Blackhawks up 10-4.
The Mendi Blackhawks' Michael Bell scored three minutes in to the second half and the Bears struck back through Gold Coast Titans recruit Tanah Boyd in the 55th minute.
Bacho Salam crossed with two minutes left in the game to secure the win for the Blackhawks.
Mendi Blackhawks kicker Kyle Laybutt kicked one conversion and two penalty goals during the game, and the Bears' Jamal Fogarty kicked one conversion.
Mendi Blackhawks coach Aaron Payne said it was a "really good win" for his side – "not just because of the scoreline".
"Burleigh are a really good side. They're a genuine top four side and we won five in a row before this, so with that, you don't really get a guide on how you're going.
"But when you play a team like Burleigh and beat them, I guess, the way they beat a lot of sides, through physicality and being tough between the ears, we take a lot of confidence out of that.
"In the last six weeks, with us winning, it's been really hard for me as a coach to pick a man of the match and I think that's a good thing… when you've got so many guys contributing and everyone knows their role within the side. It would be really hard for me to pick a man of the match to be honest."
Payne said with the Mendi Blackhawks not playing next weekend, it was the perfect opportunity to "rest and reassess".
"Then five games to go and we're in the finals. Before we have time off with the bye, it's important we reassess where we're at.
"We want to be going into the finals with some wind in our sails, so that's what we'll chat about."
Payne said despite having several injuries within his side, there was plenty of depth and he was confident going into finals; he said Zac Santo and Cade Maloney were both due back in coming weeks.
"I'm quite happy with how we're tracking at the moment," Payne said.
The Mendi Blackhawks will face PNG Hunters in Round 19, which is split across two weekends.
INTRUST SUPER CUP
MENDI BLACKHAWKS 22 DEF BURLEIGH BEARS 10
Mendi Blackhawks Tries
Kalifa Faifai Loa 13′
Josh Chudleigh 22′
Michael Bell 43′
Bacho Salam 80′
Conversions
Kyle Laybutt 2/4
Penalties
Kyle Laybutt 1/1
Burleigh Bears Tries
Sami Sauiluma 33′
Tanah Boyd 54′
Conversions
Jamal Fogarty 1/1