Quabba Brothers Excited to Head Home for Country Week
Tuesday, July 16, 2019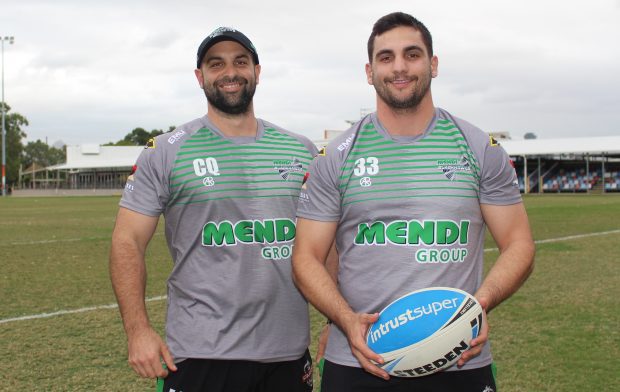 Brothers Christian & Kieran Quabba will be heading back to their hometown of Ingham for "Country Round". Photo: Blackhawks Media
BLACKHAWKS MEDIA & AMY PHILLIPS
The 2019 Intrust Super Cups highly anticipated round 18, "Get In the Game – Country Week" kicks off this weekend with the Townsville & Districts Mendi Blackhawks heading north to Ingham this Sunday, to take on the Burleigh Bears.
With thanks to the QRL and State Government, "Country Week" has become a favourite amongst clubs, giving them a chance to play an Intrust Super Cup Game in regional communities.
"Country Week is a fantastic intuitive from the QRL and State Government," Mendi Blackhawks Football Operations Adrian Thomson said.
"We have many regional districts within our footprint, and it's great we get this opportunity to give something back to these communities."
"This is the second time we have played a game in our immediate footprint, so we feel very fortunate."
"It will give regional clubs an opportunity to raise some money by hosting the games, and also means they don't have to travel to watch a game."
The round started Monday with Development Officers from the Mendi Blackhawks heading to Ingham and Burleigh Bears on Thursday, for a week full of activities.
Excited for the trip are brothers, Mendi Blackhawks forward Kieran Quabba and Assistant Coach Christian Quabba who will be heading back to their home town.
"We're very proud of Ingham and Herbert River, and to be going back there as an Assistant Coach of the Mendi Blackhawks and have my younger brother in the squad is certainly something that's very special to me," Christian said.
"When we heard that we were playing in Ingham, we rang home straight away, and everyone was really excited."
Kieran and Christian both acknowledged that what they enjoyed most about growing up and playing Rugby League in Ingham is the community feel.
"What I think makes Herbert River and Ingham clubs so special is that they are family clubs," Christian said.
"It's the feeling of community that I love the most."
"Thursday nights after training, we would have dinner, and everyone would come round for pasta and a steak," Kieran said.
"I think a lot of our grass roots of football come from country teams and Ingham's a very passionate town, especially for their rugby league."
"A lot of volunteers slave away hour after hour, giving back to rugby league,"
"So, to be able to bring a Intrust Super Cup game there will be massive."
The brothers both agreed that events such as "Country Week" provide great benefits to those in rural areas.
"It means a lot to everyone to be able to watch a game in their hometown, especially those who travel long distances to be able to watch a Cowboys or Mendi Blackhawks games every week." Christian said
"Farming communities are doing it tough at the moment, so to be able to provide everyone with a bit of excitement is special."
The day kicks off with the Herbert River Crushers taking on Charters Towers in the U19's followed by Reserve Grade, Mendi Blackhawks V Burleigh Bears and "A" Grade.
There is an online Mendi Blackhawks 1-13 Jersey Auction on now, where you can bid for a jersey worn by one of the players this Sunday. BID HERE
"Country Week" will also see locations such as Nanango, Pittsworth, Cloncurry, Thursday Island and Ilfracombe welcome their first Intrust Super Cup games.
The game kicks off at 2pm from the A.R. "Artie" Gofton Oval, Ingham.