Rd 17 Results
Saturday, July 13, 2019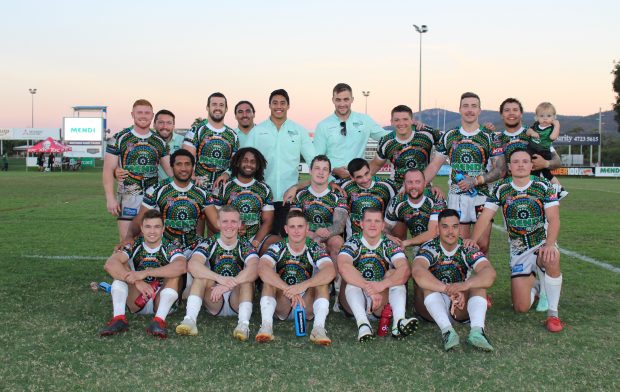 The Mendi Blackhawks celebrate their 60-6 win against the Northern Pride in Indigenous Round. Photo: Blackhawks Media
BLACKHAWKS MEDIA
There were plenty of points scored for the Mendi Blackhawks as they defeated the Northern Pride in Round 17 of the Intrust Super Cup, at Jack Manski Oval.
Mendi Blackhawks Under 20's and Intrust Super Cup teams both scored a high 60 points in each game.
Inaugural Mendi Blackhawks Captain Anthony Mitchell started "Indigenous Round" with a wonderful Acknowledgement To Country.
Then they tries came, 3 scored in the first 10 minutes, the first one of two for Kalifa FaiFai-Loa, leaping over the Pride defense in just the second minute of the game.
In just his second game in Intrust Super Cup, young gun Michael Bell scored was next to score, his first of two for the game.
The favourite try of the day was to Bacho Salam who after scoring broke into a shake-a-leg to mark the celebration of Indigenous Round.
Coach of the Mendi Blackhawks praised his team for a polished performance.
"I was very happy with how our attack was going, but more happy with our discipline and our defense." Payne said.
"We didn't give away as many penalties as we have been, and they stuck to our plan."
"We needed a good win for our for and against,"
"The competition is so close and tough and come the end of the season, it could make a difference of making the finals and not making them."
Payne also praised hooker Josh Chudleigh,
The Mendi Blackhawks Hastings Deering Colts Under 20s' made it 6 wins straight in a solid 60 to 18 win against the Northern Pride.
The visitors scoring 3 tries in the final ten minutes of the game
The day kicked off with the first trial game of the Mendi Blackhawks U17's who defeated the Northern Pride Under 17's 34 to 22.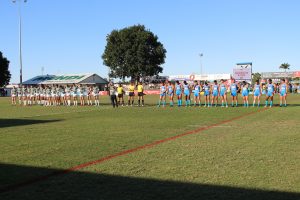 INTRUST SUPER CUP
MENDI BLACKHAWKS 60 DEF NORTHERN PRIDE 6 
Mendi Blackhawks Tries
Kalifa Faifai Loa 2′
Michael Bell 6′
Jaelen Feeney 8′
Josh Chudleigh 13′
Michael Bell 18′
Josh Chudleigh 26′
Bacho Salam 32′
Temone Power 45′
Jake Marketo 56′
Temone Power 65′
Kalifa Faifai Loa 71′
Conversions
Shaun Nona 8/11
NORTHERN PRIDE
Jordan Biondi-Odo 60′
CONVERSIONS
Jordan Biondi-Odo 1/1
HASTINGS DEERING COLTS
MENDI BLACKHAWKS 60 DEF NORTHERN PRIDE 18
Tries
Keanu WAINOHU-KEMP 3′
Griffin Neame 11′
Nathan Barrett 18′
Enemarki Shibasaki 24′
Keanu WAINOHU-KEMP 30′
Tom McCagh 33′
Ben CONDON 41′
Adam Cook 44′
Nathan Barrett 48′
Brodie Chaffey 52′
Jack Althaus 56′
Conversions
Adam Cook 8/11
Northern Pride
Tazmon McRobbie 59′
Beau Berg 63′
Beau Berg 65′
CONVERSION
Jai Doherty 3/3
UNDER 17'S
MENDI BLACKHAWKS 34 DEF NORTHERN PRIDE 22