RD 16 U20's Mendi Blackhawks Match Preview
Thursday, July 4, 2019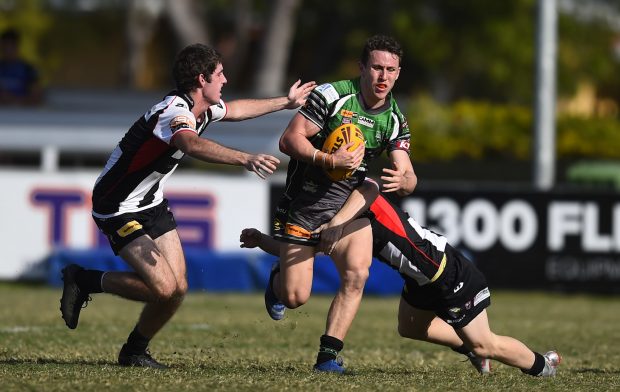 Adam Cook in round 15 in his teams win against Tweed.  Photo QRL
MICHAEL NUNN – QRL CORRESPONDENT
The battle of the north will kick off the Hastings Deering Colts Round 16 in Mackay on Friday night in the first weekend of Indigenous Round.
The Mendi Blackhawks accounted for the Tweed Seagulls last week, while the Cutters had a big win over the Magpies on Sunday.
The Mendi Blackhawks will be looking for Wiremu Greig to continue his try scoring ways, with the prop scoring two tries before halftime, while fullback and Queensland Under 18 representative Hamiso Tabuai-Fidow ended the Seagulls night just after halftime.
The Cutters will be scanning the field to make sure their own elusive speed man Rayden Burns, gets the ball.
Mackay have won six games in a row and held two teams to nil, so are in terrific form now.
Mendi Blackhawks coach David Elliott reflected on the challenge ahead.
"The Cutters have won six games in a row; it will be a challenge for our guys," Elliott said.
"We will be missing two of our back rowers Ben Condon and Nathan Barrett who will be with the Queensland Under 20 team so that gives a chance to someone else."
Kick off is 5.30pm from BB Print Stadium Mackay.
ORIGINALLY PUBLISHED QRL WEBSITE
1. Daejarn Asi
2. Ty Everett
3. Tom McCagh
4. Michael Bell
5. Zinzaan Martin
6. Brodie Chaffey
7. Adam Cook
8. Griffin Neame
9. Curtis Dempsey
10. Jack Althaus
11. Lance Folbigg
12. Jack Johnson
13. Riley Price
Interchange
14. Tom Goulding
15. Enemarki Shibasaki
16. Wiremu Greig
17. Mitch Fogarty
Coach: Dave Elliott