Mendi Blackhawks to Hold Junior Clinic in Bowen
Thursday, July 4, 2019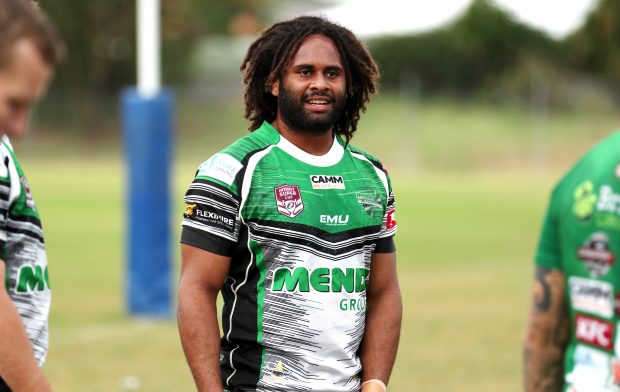 Temone Power will be returning home to Bowen for a Junior Clinic today. Photo Alix Sweeney
BLACKHAWKS MEDIA
Sitting almost half way between Townsville and Mackay is the beautiful seaside town of Bowen, part of the Mendi Blackhawks footprint, and the perfect place to stop on a road trip.
Round 16 of the Intrust Super Cup sees the Mendi Blackhawks take on the Mackay Cutters and will travel to Mackay tonight.
Along the way, the team will be stopping and holding their Captains Run at the Bowen Seagulls Junior Rugby League Club.
"Bowen is the perfect place for us to stop," Mendi Blackhawks Development Office Tim Nugent said.
"We really enjoy our times there and felt this was a good opportunity to give something back to the community."
"Visits like this reinforce that there is a direct pathway for their juniors to be able to reach the next level of football."
Prior to the team arriving, Nugent, Mendi Blackhawks player and Bowen local Temone Power and some of the local coaches we will be holding a skills clinic for the juniors.
"Once the team arrives they can watch the Mendi Blackhawks Captains Run, meet the players and get their posters signed."
The town has a thriving Rugby League community, and has produced many quality players already, including North Queensland Cowboys Corey Jensen, Mendi Blackhawks player Temone Power, this years Mendi Blackhawks Under 18's Captain Joey Jensen and Jackson Dyne.
Born and bred in Bowen, Power is looking forward to returning to his home town.
"I've loved growing up in Bowen," Power said.
"The Bowen Seagulls are a great club and I'm really looking forward to returning home to see everyone."
"I want them to know that this is where I started, and that they can live in Bowen or any regional town and still have the same opportunities to reach the next level of Rugby League as anyone."
The clinic kicks off at 4.30pm today at the Bowen Seagulls Junior Rugby League Club.