Rd 15 Results
Saturday, June 29, 2019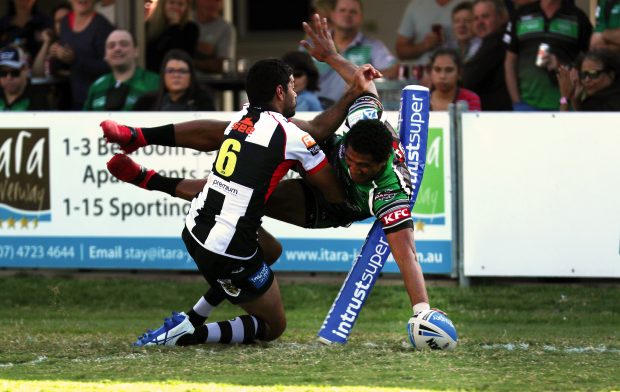 Kalifa FaiFai-Loa scores in spectacular fashion for the Mendi Blackhawks in their win against Tweed Seagulls.  Photo Alix Sweeney
BLACKHAWKS MEDIA & AMY PHILLIPS
The Townsville & Districts Mendi Blackhawks had a gutsy second half comeback, defeating the Tweed Heads Seagulls 24-22 at Jack Manski Oval.
The visitors were first to score, with Leilani Latu crossing the line in just the fourth minute of the game, with Lindon McGrady kicking the conversion.
The Mendi Blackhawks were quick to reply in the 14th minute, with flying winger Kalifa FaiFai Loa crossing the line in spectacular fashion.
Shaun Nona secured the conversation, locking the scores at 6-6.
The first half saw two more tries and a conversion to the visitors in the 25th and 30th minute giving them a 16-6 lead, as they went into the sheds at half time.
The second half saw the home team fight back strong in true Mendi Blackhawks style, with two unanswered tries to Jaelaen Feeney and Krys Freeman.
Nathan Traill was next to score, crossing for his first try with the Mendi Blackhawks,
Tweed hit back in the 67th minute to Kody Parsons, but the home team were too strong taking the win 24-22.
Coach of the Mendi Blackhawks Aaron Payne said he was impressed with how the side turned things around.
"Thankfully we played much better in the second half," Payne said
"They responded well, worked really hard and turned things around."
"It was a gutsy win."
Injury to Michael Parker-Walshe, saw Cody Maughan debut for the Mendi Blackhawks.
Jaelen Feeney put in a quality performance in the back filling in for injured fullback Zac Santo out with a bone infection.
The Townsville Mendi Blackhawks under 20's also had an impressive 36-10 win against the Tweed Seagulls, making it five straight wins and keeping the team in the top four of the Hastings Deering Colts competition.
Coach of the Mendi Blackhawks under 20's Dave Elliot was pleased with his team's performance.
"I was really happy how the boys started," Elliott said.
"They came out with a lot of energy, defended and attacked really well."
Next week the Mendi Blackhawks travel to Mackay to take on the Cutters at BB Print Stadium Mackay, Friday July 5th.
INTRUST SUPER CUP
MENDI BLACKHAWKS 24 DEF TWEED HEADS SEAGULLS 22
Mendi Blackhawks Tries
Kalifa Faifai Loa 14′
Krys Freeman 41′
Jaelen Feeney 44′
Nathan Traill 55′
Conversions
Shaun Nona 4/4
TWEED SEAGULLS
Leilani Latu 4′
Ioane Seiuli 25′
Juwan Compain 30′
Kody Parsons 67′
CONVERSIONS
Lindon McGrady 3/4
HASTINGS DEERING COLTS
MENDI BLACKHAWKS 36 DEF TWEED HEADS SEAGULLS 10
Tries
Nathan Barrett 4′
Daejarn Asi 15′
Wiremu Greig 23′
Wiremu Greig 27′
Jack Johnson 34′
Hamiso Tabuai-Fidow 41′
Conversions
Adam Cook 6/6
Tweed Heads
Callum Boomer 8′
Jaylan To'o 52′
CONVERSION
Callum Boomer 1/1