Round 15 Preview
Friday, June 28, 2019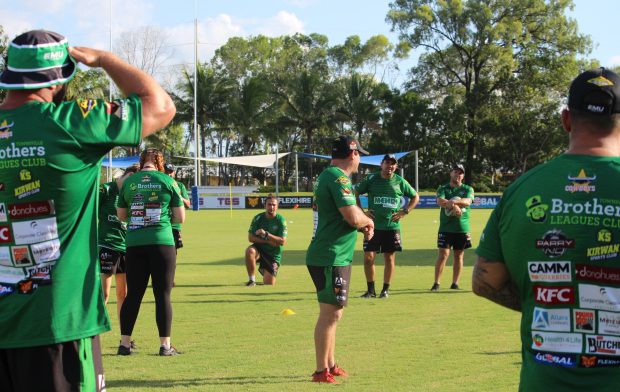 Mendi Blackhawks Coach Aaaron Payne Gives Insight into Tomorrow's Game Against Tweed. Photo by Blackhawks Media
BLACKHAWKS MEDIA & AMY PHILLIPS
Round 15 of the Intrust Super Cup sees the Mendi Blackhawks at home against the Tweed Head Seagulls.
With both teams on equal points on the Intrust Super Cup competition ladder, the Mendi Blackhawks are ahead on for and against and a win should seal their top 4 position.
The teams have faced off 8 times previously, with the Mendi Blackhawks winning 7 of those games, the first win for Tweed was back in round 2 this year.
Coach of the Mendi Blackhawks Aaron Payne said his team is keen to get back on the field after last week's bye.
"All the boys enjoyed their time off," Payne said.
"It was a great opportunity for them to have a rest and spend some time with family and friends,"
"There was encouraging signs to see the guys excited to be back at training on Monday."
When asked about the final team for tomorrow's game, Payne acknowledged that there was uncertainty surrounding the fitness of both Michael Parker- Walshe and Bacho Salam.
"There's a bit of a question mark over those two players at the moment," Payne said.
"We need them both at 100%,"
Payne added that Bacho Salam was improving, and a decision would be made at the Captains Run as to whether he would take the field.
"We want him at his best and we want him to finish the season injury free," Payne said.
"We have still got nine games to go in the regular season, so we want to give him the best opportunity to fully recover."
Payne also revealed that regular half utility Jaelen Feeney would be filling in the fullback position, due to the injury of Zac Santo.
"The injury to Zac is really unfortunate, he's been playing some of his best footy."
"I still see Jaelen as a half, but given our depth, fullback is a good position for him at the moment, especially with Zac being out."
"We will push his minutes out this week, which will give him the opportunity to get his hands on the ball more, and I've reassured him that he just needs to keep building week to week, getting his confidence back,"
"He is improving every week."
Payne also went on to say that Tweed would be looking to bounce back in this week's game.
"You're leaving no stone unturned to get the team back in the winner's circle,"
"Despite a couple of their players being called up to the Titans, they've got really good players and they're particularly strong in the forwards."
"We are all looking forward to it."
Kick off is at 4pm at Jack Manski Oval. Prior to the game at 1pm is a Queensland Correctional Services v Queensland Police Charity Match, then the U20's kick off at 2.20pm.