Blackhawks and Jets Set For Battle in Milestone Game
Thursday, June 13, 2019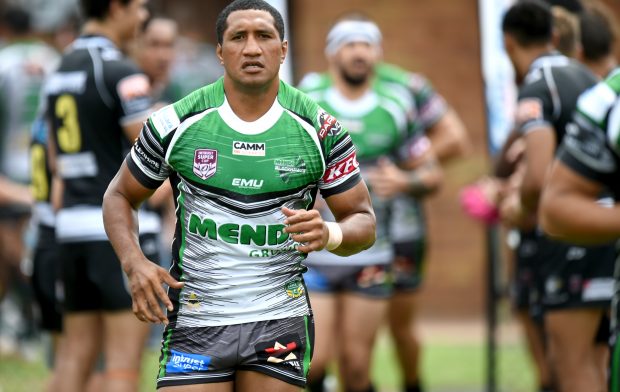 Kalifa FaiFai-Loa plays his 100 Intrust Super Cup game this weekend. Photo QRL Media
BLACKHAWKS MEDIA
It's a battle of high altitude this Saturday night when the Mendi Blackhawks host the Ipswich Jets at Jack Manksi Oval.
The Blackhawks are looking for back to back wins, after a strong win against Souths Logan last week.
The last time the Jets flew to Townsville was in the 2018 knock out semi-final, which didn't go so well for the home team.
This week, the Mendi Blackhawks are aiming to keep the Jets grounded.
"What I want most from the boys this week is consistency," Coach of the Mendi Blackhawks Aaron Payne said.
"Last week we had a good win, but now we need to build on this if we want to stay in touch with the top end of the ladder."
"A win before a bye is always motivating as well,"
"It gives the boys more of a chance to enjoy their time off."
This game will have extra significance for high flying winger, Kalifa FaiFai-Loa, who will be playing his 100th Intrust Super Cup game.
"I am very excited about playing this weekend," FaiFai-Loa said.
"I feel like the Intrust Super Cup competition has really improved since my first game,"
"It's a lot more physical and a much closer competition, any team could win."
"Townsville has always been a good place for me, and it's a good place for me to settle down."
"I feel like I have played my best footy at the Mendi Blackhawks and I can't wait to get out there this weekend."
Good friend and teammate Temone Power spoke of FaiFai-Loa, saying that by him being in the team, has helped him improve his own game.
"Kalifa makes playing Rugby League even more enjoyable," Power said.
"He has good yardage carries, and is always good for a laugh."
"It will be an honour to play his 100th Intrust Super Cup game with him."
Former St Dragons teammate and now current Mendi Blackhawks teammate and roomie Jake Marketo paid tribute to the former New Zealand International.
"Kalifa and I go back a few years now," Marketo said.
"We actually debuted together at the Dragons in 2010."
"He brings so much enthusiasm to the team, and some pretty spectacular try finishes."
"Kalifa always tries his best and really competes,"
"Hopefully we can get the win for him."
Former teammate and now Coach, Aaron Payne also paid tribute to FaiFai-Loa.
"Kalifa and I played together at the North Queensland Cowboys," Payne said.
"We have had a good friendship for a long time."
"As a player, milestones like these are something that you look back at it when you retire, and you can be very proud of."
"Kalifa has had a great career, and I look forward to watching him run out for his 100th game."
Marmin Barba from the Jets will also play his 100th Intrust Super Cup game.
Michael Parker-Walshe will move equal with Anthony Mitchell on 72 games for the Mendi Blackhawks – the most Cup games for the club.
Prior to the game is the North Queensland Touch Football Championships.
Kick off is at 7pm.
Mendi Blackhawks U20's have the weekend off with a BYE round.
Team List
1. Nathan Traill
2. Michael Carroll
3. Bacho Salam
4. Kyle Laybutt
5. Kalifa FaiFai-Loa
6. Michael Parker-Walsje
7. Shaun Nona
8. Sam Hoare (C)
9. Josh Chudleigh
10. Joe Boyce
11. Jake Marketo
12. Temone Power
13. Thomas Gilbert
Interchange
14. Jaelen Feeney
15. Krys Freeman
16. Kieran Quabba
17. Wiremu Greig
Coach:  Aaron Payne
*Team subject to change
U20's BYE ROUND