Bacho Salam Making Up For Lost Time
Sunday, June 2, 2019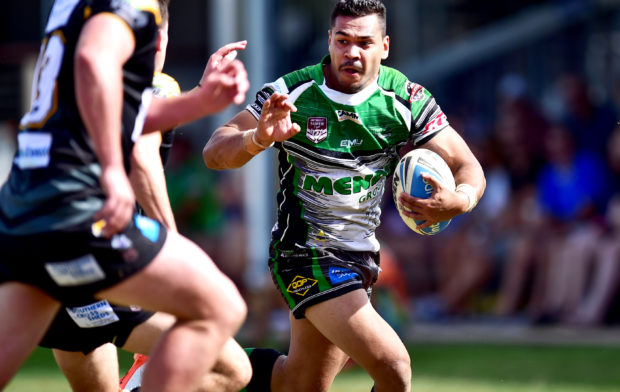 Bacho Salam in action for the Mendi Blackhawks. Photo Alix Sweeney
TRENT SLATTER, Townsville Bulletin – June 1, 2019
TOWNSVILLE Mendi Blackhawks centre Bacho Salam says his 12 months in the rugby league wilderness have only given him a greater appreciation for every chance he gets to take the field.
Salam has been a standout for the Mendi Blackhawks this season, scoring three tries in four games while he was also named in the QRL's Team of the Week following last weekend's 30-6 win over the Easts Tigers.
But his rugby league dream almost slipped away in 2017 after Salam tested positive for higenamine — a drug used for weight management that was believed to be in a supplement he had taken.
Salam accepted a voluntary 12-month ban before making his playing comeback with Centrals in the TDRL last season where he scored 10 tries in eight games for the eventual premiers.
The 22-year-old also made his Mendi Blackhawks debut in 2018, playing their last two games of the season, before biding his time waiting for another chance in the Queensland Cup this year.
Salam didn't shy away from the supplement controversy and insisted he used it as motivation as he keeps pushing for an NRL contract through the Blackhawks.
"I know it was a setback in my career, but I just felt in my heart I just couldn't give up because if I did it just wouldn't feel right," Salam said.
"I've obviously learnt my lesson. It was no one's fault, it was mine. I take full responsibility for it. That setback was just a real eye opener because footy doesn't last forever.
"There's a lot of days that I look back at it and all I want to do is just keep moving forward and just play the best footy that I can."
The Mendi Blackhawks have prided themselves on their defence this season and coach Aaron Payne described Salam as one of their most reliable players.
Payne coached Salam at under-20s level with the Cowboys and he said it was pleasing to see the Mossman Sharks junior making the most of every opportunity.
"Defensively, I don't think there's many better centres in the comp than him and that's his number one attribute. His reads and his movements are fantastic," Payne said.
"He's a very good player and he probably should have played more Cup to be honest. Obviously there was the setback he had a few years ago and he had a couple of good centres in front of him.
"It's fantastic for him for his confidence that he's back and he's playing well. He deserves it after being out in the wilderness for a while."
Salam will get another chance to prove himself when the fifth-placed Blackhawks take on the third-placed Wynnum Manly Seagulls at Kougari Oval this afternoon.
Townsville's form has been inconsistent, but they've won three of their past four games since Salam has been in the team and said there was a good feeling within the playing group.
"You play your best footy when you're playing in a good team and you have other blokes outside you that want to work for you," he said.