Falcons Continue Streak with Tough Win over Townsville
Wednesday, May 22, 2019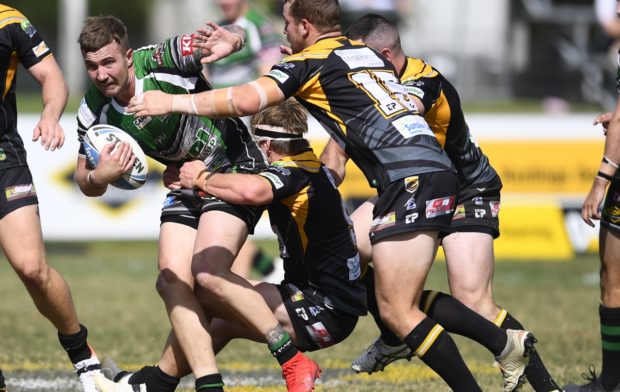 Townsville Blackhawks Media & Colleen Edwards
The 2019 season winning streak of the Sunshine Coast Falcons continues after they withstood a tough Round 10 challenge from the Townsville Blackhawks.
Coming into Round 10, the Falcons were reigning as Goliaths over the Intrust Super Cup competition with an unbeaten streak.
The Mendi Blackhawks too were in good form coming into the match with two consecutive wins, and a successful result over the Falcons would have seen them move to third place on the ladder.
The teams battled a forceful wind and it was the home side who scored first after a fast exchange near the line.
Playing centre for this game, Kyle Laybutt offloaded the ball to winger Michael Carroll to score – the first time in six games that the Falcons had conceded the first try of the match.
Eager to balance the score, the Falcons fought through with their aggressive attack and found success when former Blackhawk Jon Reuben went over to secure a try.
With the successful conversion by Todd Murphy, the Falcons edged ahead of Mendi Blackhawks 6-4.
Entering the 20th minute, the game was a tug-of-war between teams.
The next try came off an error – with Reuben losing the ball over the line after being challenged by Laybutt – with Temone Power the man on the spot who dove on the ball to score.
The Falcons then pushed their way to reclaim their lead only three minutes later with a try from Falcons centre Siti Moceidreke who showed some good skill.
Like true birds of prey, the Falcons exposed a weakness in the Blackhawks' defence and they went further in front when Sandor Earl evaded defenders by diving through the air to touch the ball down inside the touchline.
His try and Murphy's conversion saw the Falcons surge ahead to lead 18-10 at the break.
While the game was closer than the final scoreline might suggest, the Falcons essentially won the game with their defensive work at the start of the second half.
They withstood a prolonged attack at their line and were able to turn the Mendi Blackhawks away.
Instead, they were able to score in the 60th minute when fullback Nicho Hynes soared ahead of the pack and fed the ball to Harry Grant who scored and they were in again soon after when Cooper Johns went the short side with a clever play.
As the last 10 minutes counted down, the gap between scores expanded when forward Joe Stimson was over for the final try of the afternoon with only two minutes left on the clock.
An entertaining game in front of the 9GEM cameras; it showed again that the Falcons would be hard to beat.
The Mendi Blackhawks will again be at home and will take on Easts Tigers on Saturday.
ISC
Mendi Blackhawks 10 –  34 Sunshine Coast Falcons
Tries:
Michael Carroll 10′
Temone Power 20′
Conversions:
UNDER 20'S
Mendi Blackhawks 18  – 22 Sunshine Coast Falcons
Tries:
Jamaine Gillin 34′
Tom McCagh 38′
Tom McCagh 50′
Hamiso Tabuai-Fidow 68′
Conversions: