Santo Double Helps Townsville Shake off Hunters
Tuesday, May 7, 2019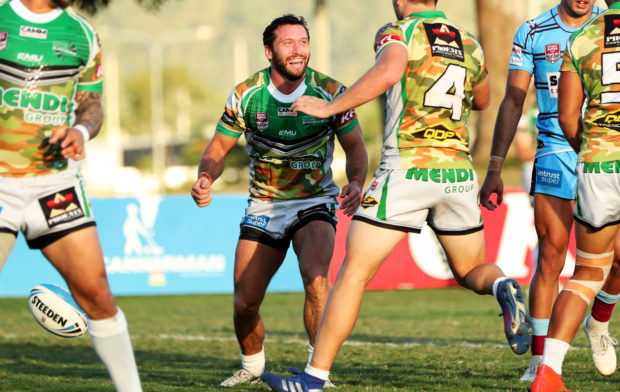 Zac Santo scored two tries for the Mendi Blackhawks in the team's win over PNG Hunters on the weekend.  Photo from round 8 Alix Sweeney
Colleen Edwards QRL Media & Levington Melvin Levongo
Despite an improved showing from the PNG Hunters; the Towsville Mendi Blackhawks were able to shake them off to record a 24-14 win at National Football Stadium to close out Round 9 of the Intrust Super Cup.
The match started in high intensity has both sides try to fire.
The Hunters – as usual led by Enoch Maki and Junior Rop upfront – set an impressive platform for the PNG side, however Blackhawks five-eighth and PNG international Kyle Laybutt was also firing for his team, generally directing every play.
Things started well for the home side with a try in the opening minute of play with Bland Abavu over for a four-pointer in the corner.
Ase Boas – who needed 10 points to bring up 500 for the club – was unable to get closer to his goal, missing the conversion attempt.
The Mendi Blackhawks then dominated the rest of the half, running in three tries – a double to Zac Santo in the 11th and 20th minute.
Santo's first try came from some impressive second man play that help send him over the try line.
This follows on from his three-try haul last weekend against the Capras; giving him a total of five so far this season. The most tries scored to date is nine, with both Ed Burns (Wynnum Manly Seagulls) and Troy Leo (Burleigh Bears) leading the charge.
The next Mendi Blackhawks try came from hooker Josh Chudleigh, who is still in his early stages back from injury scored in the 32nd minute for the visitors.
The Hunters hit back at the end of the first half with Brendon Gutono flying over to score. Gutono is back in the Hunters system after spending some time with the Penrith Panthers.
This time Charlie Simon had the attempt at conversion, but was unable to add the extras.
Townsville, who had lost four of their past five encounters against the Hunters – headed into halftime with a key 16-8 lead.
The home side were in again to close the deficit to 16-14 when Brandon Nima crossed for his side in the opening stages of the second half and Simon was successful with the kick.
However, that was as close as they would come as a try to winger Kalifa Faifai Loa secured victory for the visitors.
With the win, the Townsville Blackhawks claimed Air Niugini Kokoda Cup from the Hunters keeping. Playing for the Cup began in 2017 to commemorate the Battle of Kokoda as well as the direct flights between Port Moresby and Townsville introduced in 2017.
There is a bye next weekend for the XXXX Queensland Residents v NSW Residents game which will see Blackhawks Tom Gilbert and Corey Jensen in action.
In Round 10, the Hunters will host the high-flying Wynnum Manly Seagulls.
The Townsville Mendi Blackhawks will be aiming to become the first team to bring down the Falcons in their Sunday TV match.