Teen Blackhawks Lock Tom Gilbert Dreams of Top-Flight NRL Debut with Cowboys
Thursday, May 2, 2019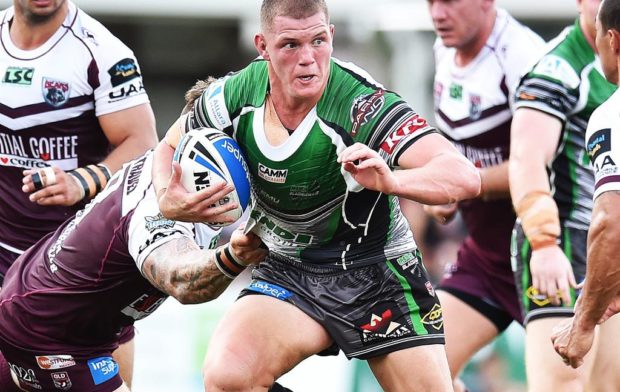 Tom Gilbert in action for the Townsville Blackhawks Picture: Zak Simmonds
TRENT SLATTER, Townsville Bulletin, May 2, 2019
BLACKHAWKS lock Tom Gilbert expected to spend this season playing under-20s, but he's now daring to dream of an NRL debut after proving himself as the most damaging forward in the Queensland Cup.
The Cowboys-contracted teenager has been a revelation for the Blackhawks since he was called into the starting side for round one and leads the competition for run metres by a forward, averaging 144 metres per game.
Gilbert has also claimed four tries for good measure and is a near certain selection for the Queensland Residents ahead of next weekend's clash with the NSW Residents in Redcliffe.
The 18-year-old missed the Blackhawks' run to last year's under-20s grand final with an ankle injury, but he credited a strong preseason with the Cowboys for his rapid rise to the Q-Cup.
"My goal was to making it during the season. I wasn't expecting to be there round one," Gilbert said.
"It was definitely challenging, but the way we train here at the club (Cowboys) is helping me convert that back into state cup.
"Sometimes there's bigger men coming out to get me, but it's all about managing it and I'm prepared for it. I know it's coming and it's just making me a better player along the way."
Tipping the scales at 96kg, Gilbert still gives away some size to other middle forwards in the Q-Cup, but the determined young lock welcomed the challenge as he chases a Cowboys call-up.
Gilbert isn't eligible to play NRL until after June 30 as a development player, but the former Brisbane Grammar student felt it was an achievable goal given his strong performances for the Blackhawks.
"It's about challenging myself and setting the benchmark high. I've kind of said to myself now 'why not?'," Gilbert said of a potential NRL debut this season.
"I've got a mate down at Brisbane who's playing fulltime NRL – David Fifita. We played a bit of rep footy growing up and he's a good player. I want to be able to do what he's doing.
"I definitely think it's something I'm working towards now, but there's still a big gap between the NRL boys and me so I've still got a long way to go.
"It's good to set the benchmark high. I'm not really fazed by form and stuff.
"You determine whether you're playing good or not so at the end of the day it's up to me to keep producing the games I have been doing."
Gilbert first signed a scholarship with the Cowboys as a 15-year-old and spent last year on an under-20s deal before getting the chance to train fulltime with the NRL squad this season.
"I love Townsville. I love the community and I love the people up here, especially the club. They've got a good support crew up here and they want to support me and see me do the best," Gilbert said.
"It's helping me play good footy, but it's also helping me enjoy life."