Santo Scores Hat-Trick in Blackhawks Win Over Capras
Monday, April 29, 2019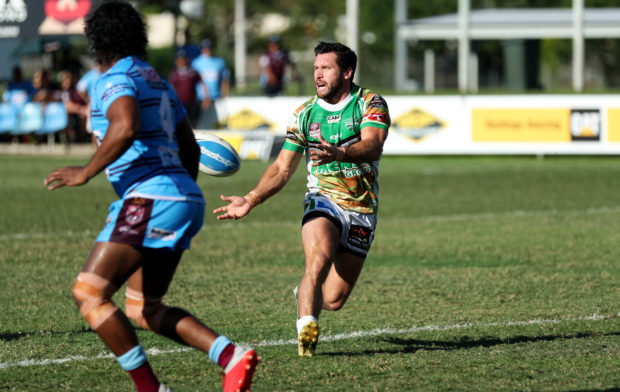 Zac Santo scored a hat-trick in the Mendi Blackhawks win over the CQ Capras on the weekend. Photo Alix Sweeney
BLACKHAWKS MEDIA
Crowds gathered under the North Queensland sun to support the Mendi Blackhawks as they took to the field against the Central Queensland Capras.
Marching into Round 8, the Mendi Blackhawks had a point to prove after losing to Norths Devils in Round 7.
Determined to secure the win, the Mendi Blackhawks were in full battle mode and buoyed by the presence of many Australian Defence Force veterans after a full Anzac ceremony preceding the game.
With less than two minutes on the board, Capras second rower Luke George snuck through the Blackhawks defence to secure the first try of the game after a Blackhawks drop ball from the kick off.
The Blackhawks responded quickly, with birthday boy Bacho Salam unwrapping his gift to balance the score.
Kalifa FaiFai-Loa edged the Blackhawks into an early lead with a successful conversion, bringing the score to 6-4 in the first quarter.F
Continuing their momentum, Blackhawks extended their lead with tries from Corey Jensen and Zac Santo, as the clock ticked down to half-time.
Temone Power, again proved his namesake with a try 45 seconds shy of the buzzer; Blackhawks led 22-4 at half time.
Picking up where they left off, Blackhawks opened the second half with a try from Jake Marketo — it was his second try this season.
With two conversions under his belt, FaiFai-Loa revealed his fighting spirit, charging forward to score just under the 55th minute.
Affirming his position as a power player, Santo procured his second and third try for the game, pushing the Blackhawks lead out to 38-4.
Levi Dodd executed his second conversion successfully, rounding off the game to achieve a satisfying 40-4 win for the Blackhawks.
It was the Blackhawks' fifth win of the season.
Blackhawks will travel to Papua New Guinea to face off against the PNG Hunters in Round 9.
TOWNSVILLE BLACKHAWKS 40 (Zac Santo 3, Bacho Salam, Corey Jensen, Temone Power, Jake Marketo, Kalifa Faifai Loa tries; Kalifa Faifai Loa 2/4, Levi Dodd 2/4 goals) def CENTRAL CAPRAS 4 (Luke George tries; BJ Aufaga-Toomaga 0/1 goals) at Jack Manski Oval.