Sam Hoare To Make His Return in Round 7
Thursday, April 18, 2019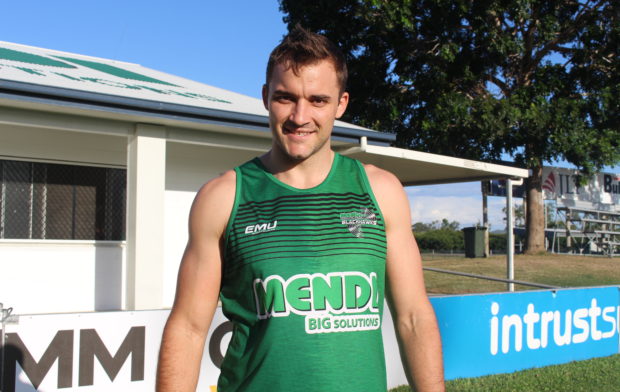 Sam Hoare out of the injured squad and happy to be back playing again for the Mendi Blackhawks. Photo Blackhawks Media
BLACKHAWKS MEDIA
After 10 months in recovery, Sam Hoare has been named for the Mendi Blackhawks in round 7 of the Intrust Super Cup.
2018 looked to be an impact year for the talented forward, making a successful return from 2 previous injuries.
Named in the starting side for 3 consecutive games with the North Queensland Cowboys, Hoare tore his ACL for the third time in round 15 against the Warriors.
"I was pretty devastated at the time," Hoare said.
"I thought I was I back to playing some of my best footy."
"And there was a lot of uncertainty around at that time too because I knew I was coming off contract."
Fast forward to 2019 and Hoare is now contracted to the Mendi Blackhawks and out of the injured squad.
Standing at 195cm and weighing 112kg, Hoare has the size and ability that appeals to many clubs, but said he is happy with his choice to stay at the Mendi Blackhawks.
"I'm really enjoying being at the Mendi Blackhawks," Hoare said.
"It's not just about the footy, it's also about the lifestyle."
"I've been lucky enough to secure a full-time position with "Queensland Country" and still get to play footy, so things have fallen into place for me."
Hoare pays tribute to his family and partner Micaela Cocks, who is a professional basketball player with the Townsville Fire, for helping him get back to playing.
"My family are always very supportive and are always there for me."
"And being an athlete herself, Micaela knows the highs and low of professional sport."
"She is a great sounding board to talk to and knows what you put your body through each game."
"I was also given some good advice from Brent Tate who said don't put too much expectation on myself for my first few games back,"
"Just try to work on getting back to the player I was slowly, and things will fall into place."
"Playing NRL is what most Rugby League players aspire to,"
"But for now, I'm just looking forward to getting back out and playing my best footy again,"
"And if I do that, then who knows that the future may bring, but that's a fair bit down the track."
Coach of the Mendi Blackhawks Aaron Payne said he is looking forward to Hoare's return.
"Sam has been working really hard to get back to where he is today," Payne said.
"I know he has a driving force to get back to his best."
"Long term injuries are always more difficult, but he has shown a lot of courage and commitment to his recovery and now this is his reward for that."
"Sam has a lot of experience and leadership that he will bring into the team this weekend and I'm really excited for him."
The Mendi Blackhawks travel to Bishop Park this Saturday to take on the Norths Devils. Kick off is at 5pm.