Rd 6: Flood Relief Benefit Day
Wednesday, April 10, 2019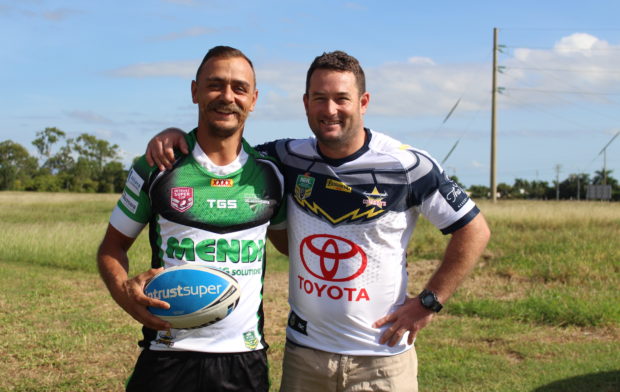 Mendi Blackhawks Inaugural Player Anthony Mitchell and Coach Aaron Payne will be lacing up the boots again this weekend for a Cowboys Old Boys V Mendi Blackhawks Invitational game to raise money for the floods benfit.  Photo: Blackhawks Media
BLACKHAWKS MEDIA
The Townsville & Districts Mendi Blackhawks have this morning announced that their Intrust Super Cup round 6 match against the Redcliffe Dolphins this Saturday, will be a fund raiser for the devastating floods that hit Townsville and regional areas in February.
Brothers Leagues Club, Townsville will donate $3 from every ticket sold at the gate, plus a further $5,000 to be equally shared between the SES Townsville and the QLD Country Women's Association, QCWA.
CEO for the Mendi Blackhawks, Justin Wilkins, said there was plenty of activities throughout the day, with the highlight being a Cowboys Old Boys V Mendi Blackhawks Invitational team charity game, kicking off straight after the main game.
"This day will be a wondering opportunity to give back to our community," Wilkins said.
"How good will it to see names like Bowen, Payne, Tate and Bowman running around together again, as well some of our Mendi Blackhawks inaugural players and TDRL players."
The Redcliffe Dolphins have also generously donated to the day, with donations made on behalf of the staff of the Redcliffe Leagues Club who have pooled their tips over the last year.
"Our Staff always donate their tips to a worthy cause, and when we got news of the flood disaster that hit Townsville earlier in the year we knew we wanted to help out," Dolphins CEO Tony Murphy said.
Popular Townsville band "Zacariah" will also be playing straight after the game to keep the night going.
"We would love to see as many people as possible come out to the game," Wilkins said.
"It might be the last time you get to see these legends play together, and it's for a good cause."
Teams for the Charity Game will be announced soon.
Program of Events
12.50pm – U18 Mendi Blackhawks V Redcliffe Dolphins
2.20pm – U20 Mendi Blackhawks V Redcliffe Dolphins
4pm – ISC Mendi Blackhawks V Redcliffe Dolphins
6pm – Cowboys Old Boys V Mendi Blackhawks Invitation
6.45pm – Garden Bar after party featuring "Zacariah"
Townsville Mendi Blackhawks Invitation Old Boys 
Anthony Mitchell
Neville Costigan
Tyler Smith
Ben Jeffries
Bevan Heuir
Sean Casey
Barrett Wherry
Craig Snell
Lee McLean
Tennyson Elliott
Roy Baira
Lloyd McIver
Andy Walters
Ashley Staub
Jack Cooper
Simeon Fuller
Michael Rosemond
Dan Dowd
Allan Standen
Aaron Radeck
Christian Quabba
Cowboys Old Boys Team List
Aaron Payne
Paul Bowman
Shaun Valentine
Leigh McWilliams
George Gatis
Matt Bowen
Ashley Graham
Glenn Hall
Michael Luck
Michael Hogue
Daniel Strickland
Brenton Bowen
Brent Tate
Mark Henry
Mark Shipway