Blackhawks Hold on Against Burleigh
Monday, April 1, 2019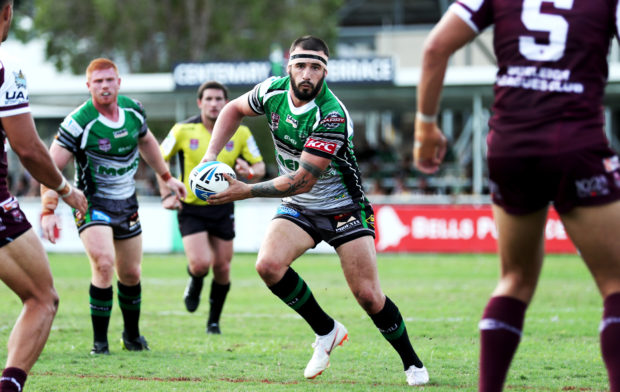 Jake Marketo in action against Burleigh on the weekend.  Photo Alix Sweeney
by Colleen Edwards – QRL Content Producer and Female Participation Media
Sun 31 Mar 2019, 09:29pm
An attacking first half set up an 16-10 win for the Townsville Blackhawks, who held off a strong finish from the visiting Burleigh Bears.
Coach Aaron Payne was pleased with the way his side were able to hold on against a Bears outfit that found new spark in the second half at Jack Manski Oval.
"We weren't great in attack in the second half – but our defence showed our desire to keep competing," Payne said.
"Our defence won it for us.
"We attacked well in the first half … we welcomed a couple of Cowboys into our centres (Tom Opacic and Justin O'Neill) who performed well.
"We had been starting games slowly; but we certainly had a good 15-20 minute period (in the first half) that we found our groove."
While Payne said he doesn't hold a particularly defensive mindset as a coach – saying he did enjoy seeing points scored – he said the work of past coach Kristian Woolf had helped laid that foundation.
"I have to give praise to Kristian Woolf for the defensive mindset that has developed in the players and how they work on that," he said.
While the Mendi Blackhawks earned their 16-0 lead at halftime; the Bears did well to come back strongly in the second half, especially as they played the entire half with 12 players, with Pat Politoni sent off for striking.
The hooker will find out his future when the QRL Judiciary Charges come out on Tuesday.
It was an ignominious end to the opening half, with the Mendi Blackhawks also losing two players to the sin bin in relation to the incident.
On the field, after tries to backs Jesse Arthars and Troy Leo, Burleigh were denied the chance to level the scores at the end of the game when Josh Berkers was held up over the line.
The match was also the 50th Cup game for Mendi Blackhawks Jake Marketo and Kyle Laybutt, with Payne praising their contributions to the club.
"Both are really good players with good qualities and both are key members of our squad," he said.
"Jake is a leader in our side, and Kyle as a half is invaluable as well with what he brings."
Next week, the Mendi Blackhawks host the Mackay Cutters in a rare Friday night game.
"We have a short turn-around, but we'll … try and replicate the energy levels from (tonight)," Payne said.
"But it's always fun (to play in derby match); when players who train fulltime together like they do in the Cowboys come up against each other, there is always a bit more spice."
Try Scorers
Mendi Blackhawks
Jake Marketo 10′
Krys Freeman 15′
Shaun Hudson 34′
Burleigh:
Jesse Arthars 56′
Troy Leo 65′
Conversions
Mendi Blackhawks 2/3:
Kalifa Faifai Loa 11′
Kalifa Faifai Loa 17′
Burleigh Bears 1/2:
Tyronne Roberts-Davis 67′