Team Name for Mendi Blackhawks U18's Trial Game
Wednesday, February 13, 2019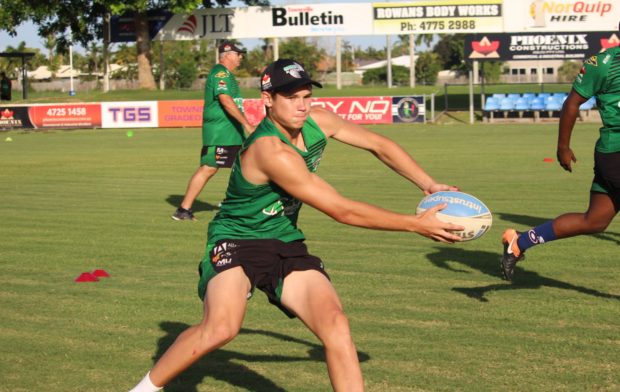 Tomas Chester Mendi Blackhawks U18. Photo Blackhawks Media
BLACKHAWKS MEDIA
The Townsville and District Mendi Blackhawks have announced today the Under 18's will play in a trial match tomorrow night against Townsville Brothers Under 19's at Jack Manski Oval.
Coach of the Mendi Blackhawks Matthew Bowen said he was looking forward to watching the boys play after a good pre-season.
"We are all looking forward to our first hit out on Thursday night," Bowen said.
"I have been pretty happy in how they are training and taking things on board in how we want them to play this year."
"A couple of boys have really impressed me so far,"
"Jake Bourke is only 17 this year, plays in the halves, and is already pushing for a starting role in round 1,"
"Thomas Casey plays fullback, is only little guy, but is brave and good on his feet,"
"Isaiah Vailalo does everything at 100% at training and I am looking forward to watching him play this week."
Kick off is at 6pm and entry and free.
Trial 1
U18 Mendi Blackhawks V U19 Townsville Brothers
6pm, Jack Manski Oval  
1. Thomas Casey
2. Steven Numambo
3. Ethan Targett
4. David Musumeci
5. Mark Gardiner
6. Jake Bourke
7. Bradley Schneider
8. Isaiah Vailalo
9. Adrian Trevilyan
10. Vaughn Kim
11. Samuel Nimmo
12. Phillip Musumeci
13. Joey Jensen
14. Tomas Chester
15. Zac McMinn
16. Dean Barnes
17. Jack Taylor
18. Tareq Parter
19. Tai Laidow
20. Jesse Yallop
21. Jackson Dyne
22. Ethan Roberts
23. Tyreece Woods
24. Luke McCarthy