Monsoon Rain Doesn't Dampen Mendi Blackhawks Spirit
Sunday, February 3, 2019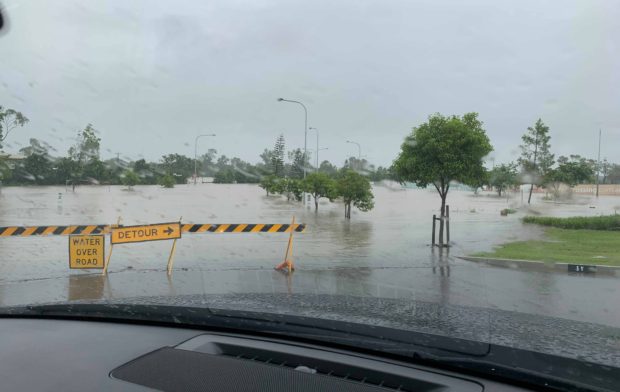 BLACKHAWKS MEDIA
With Townsville receiving almost one metre of rainfall in just over a week, the Townsville and Districts Mendi Blackhawks have had to make adjustments to training, but nothing has dampened the spirit of the community.
Coach of the Mendi Blackhawks Aaron Payne, who's property in Alice River has been isolated since Thursday, has been coaching via phone with the help of his assistant coaches.
"I was born in Townsville and have never seen rain like this," Payne said.
"We are trying to not let it interfere with our pre-season too much, but it's more important to us that all of our players, staff and families are safe."
"It's really pleasing to see the community spirit on display."
"Some of the boys have been sandbagging, and they have all been pitching in and helping anyone that has needed assistance in the community."
At Mendi Blackhawks headquarters, Strength and Conditioning Coach Jason Tassell said the club is fortunate to only receive minor flooding in the gym.
"Compared to what some people are going through, we have been lucky to only have some minor flooding in the gym," Tassell said.
"Everyone is trying to keep positive and hoping that everyone gets through the next few days OK."
As the rain continues to fall in Townsville, a decision will be made later in the week in regards to the trials games set down for this Saturday.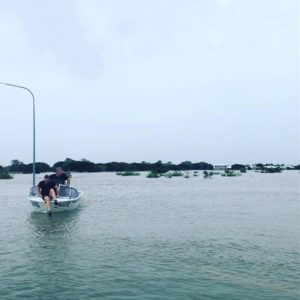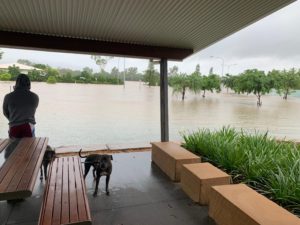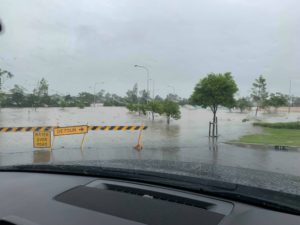 Flood waters at Harris Crossings not far from the home of Michael Parker-Walshe.
Jaelen Feeney became dog rescurer when he found these 2 gorgeous puppies muddy and lost in the rain.  The owners were located a short time later.